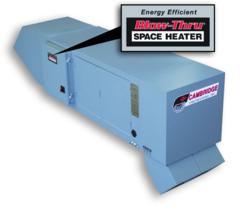 St. Louis, MO (PRWEB) March 01, 2013
The U.S Department of Energy and Commercial Building Energy Alliance member companies released their new technology specifications for 90+% energy efficient commercial grade gas heaters. Cambridge Engineering, a leader in direct gas fired space heating, is one of only a few heater manufacturers included on the qualified products list with energy efficient models that meet the advanced technology specifications for gas fired space heaters.
The Commercial Building Energy Alliance (CBEA) is a government industry partnership facilitated by the U.S. Department of Energy (DOE). The alliance includes commercial and industrial building owners, managers and operators who work together to identify and implement best practices and advanced technologies for significant energy savings in their buildings. CBEA alliance members are often early adopters for the most successful investments in energy efficient HVAC systems and energy retrofits. DOE and CBEA worked with Cambridge and other manufacturers of high efficiency heaters to develop the new space heater specifications. They are important communication tools that developers, building owners, property managers, engineers and contractors can use to ensure the procurement of the most energy efficient heating equipment. This includes Cambridge Direct-Fired S-Series Blow-Thru Space Heaters and Cambridge ITH-Series Infrared Tube Heaters.
According to the DOE website, if commercial and industrial buildings would simply replace their standard efficiency unit heaters with more efficient designs like Cambridge Space Heaters, U.S. businesses could save 34.7 Tutu of energy, or about $300 million in energy costs, per year. This is assuming only a 10% improvement in overall energy consumption. While these energy saving predictions are significant, Cambridge has documented actual building energy savings to be even higher for direct-fired Blow-Thru space heating technology. This is based on the fact that most standard unit heaters operate significantly lower than the rated 80% efficiency, direct-fired space heaters exceed the baseline 90% efficiency mark and the Cambridge Blow-Thru design provides additional energy savings from decreased stratification.
The DOE/CBEA gas heater specification and qualified products list helps to fill a void for this category of small commercial grade heaters that is not included under DOE's ENERGY STAR Products program designed for consumer and residential space heaters. One of the goals of the new commercial DOE/CBEA specifications will be to complement the existing ENERGY STAR Partnership program already in place for building owners and companies that want to use energy efficient space heating equipment to save energy and reduce their carbon footprint.
Cambridge S-Series, Blow-Thru space heating technology is ASHRAE 90.1 compliant and provides up to 70% energy savings which is documented by over 400 third party building studies and independent computer energy modeling. Cambridge space heating systems also are pre-qualified for many energy saving incentives from local utilities and EPAct Federal tax benefits worth millions of dollars.
Visit the U.S Department of Energy and Commercial Building Energy Alliance website for a full list of member companies featured.
About Cambridge Engineering, Inc:
Established in 1963, Cambridge is a manufacturing company with strong R&D, engineering and customer oriented problem solving capabilities. Energy efficient Cambridge space heaters, infrared radiant heaters and make-up air units save energy, reduce operating costs and improve air quality for a wide variety of commercial and industrial facilities. Sales, installation and technical support throughout North America is provided by an experienced network of factory trained sales representatives, service technicians and mechanical contractors. Cambridge Engineering is an ENERGY STAR Partner, U.S. Green Building Council (USGBC) member and member of the utility based Energy Solutions Center (ESC).
For more information, visit our website http://www.cambridge-eng.com or call 800-899-1989.