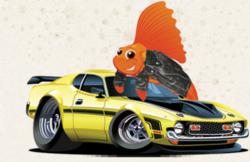 It begs the question, what else will I be alive to see from here on out?
Hawthorne, CA (PRWEB) June 01, 2012
RoadFish.com men's lifestyle and finance magazine commended the space transport company SpaceX for the successful mission of its spacecraft, the Dragon, which recently became the first privately built space vehicle to dock at the International Space Station (ISS.) After its historic 9-day voyage, the Dragon capsule made a splash landing this morning just off the coast of Southern California. The undertaking raises questions about the future of a potentially wildly lucrative commercial space market, now that private companies have successfully taken to space.
Andy Pasztor of the Wall Street Journal reported that the Dragon capsule, owned and operated by the Space Exploration Technologies Corp. (SpaceX for short), dropped precisely into the Pacific Ocean this morning after a 9-day voyage in space. The capsule, attached to three 116-foot diameter parachutes which guided its descent to Earth, is the first commercial vehicle to have docked at the ISS. The venture was quite a triumph, and SpaceX's founder and chief executive, Elon Musk, is quoted as saying, "This couldn't have gone better. [It was] more success than we had a reasonable right to accept… There's not much to fix."
Alex Fitzpatrick of the social media news site, Mashable.com, reported that the Dragon was unmanned for its journey. On May 22, the Dragon launched out of Cape Canaveral, Florida, laden with experimental equipment and other goods which it would hand off to the ISS when it docked. On Thursday morning, the Dragon was extracted from its docking stating at the ISS carrying 1,455 pound of freight to return to NASA. Fitzpatrick notes that the Dragon was subjected to 4,000 degree Fahrenheit temperatures during its descent back to Earth. The aquatic landing was a success, with the Dragon coming to rest a mere mile from its intended target. Fitzpatrick reports that SpaceX plans on eliminating the water landing in future flights and having the capsule touch down on a launching pad instead.
RoadFish.com is impressed by the historical mission, and is astounded that technology has advanced so far already. RoadFish.com's Senior staff writer is quoted as saying, "It's so wild to me that the day is here where commercial space craft has become a reality. Of course it makes me wonder what the future holds for privately owned vessels venturing into space, and all the opportunity that lies within that prospect. I joke about a George Jetson lifestyle getting closer and closer to actuality, but in all seriousness I just wasn't sure that this day would come in my lifetime. It begs the question, what else will I be alive to see from here on out?"
The above-mentioned Wall Street Journal article states that the Dragon's trip was but a test run, with the intention of using this capsule and others like it to carry cargo and astronauts into orbit within the decade. Not to mention the fact that this mission has put a spotlight on SpaceX as being the leaders in the emerging commercial space craft market. SpaceX, the company that built and operated Dragon, was founded in 2002 by Elon Musk who is also the co-founder of PayPal and Tesla Motors. In December 2010, SpaceX made history by becoming the first company to successfully launch, orbit, and land a privately owned and manufactured spacecraft. Dragon's docking on the International Space Station marks another first for SpaceX, and Dragon became only the second space craft to have returned cargo from the ISS to Earth. Elon Musk has stated that it is a personal goal of his to land humans on the surface of Mars within the decade.
RoadFish.com, like much of the world, is curious about what the future holds for commercial space ventures. RoadFish.com's Senior staff writer is quoted saying, "I feel like a door was just opened to this whole new market of commercial space adventures. And you know how this sort of thing goes, once a door is opened, the chances that it'll close again are highly unlikely. I foresee a lot of opportunity and a lot of change in the upcoming decades. You can bet I'm going to stay closely tuned to see what SpaceX and NASA are up to next."
According to the above-mentioned Wall Street Journal article, NASA is incredibly supportive and proud of the mission. Pasztor reports that the material used in Dragon's design was actually developed together with NASA. Alan Lindenmoyer, the head of NASA's commercial-cargo office, is quoted as saying that SpaceX's success with Dragon has transformed "hopes into reality" and called the venture "just an amazing amazing mission." The article goes on to report that SpaceX plans to begin routine cargo deliveries to the International Space Station, beginning its runs possibly in September of this year. If this plan becomes a reality, NASA and SpaceX will enter into a $1.6 billion contract, marking the first of its kind.
About RoadFish.com
RoadFish.com is an online men's lifestyle and finance magazine targeted toward men in their 30's and 40's that have already attained a moderate level of success in life, and are striving toward more. It goes over current events of interest to this group, such things as exciting adventures, consumer interests, and tips on boosting one's credit score, as well as ways to make more and save more money. It is a publication owned by Purpose Inc.
# # #