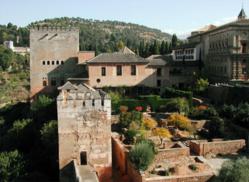 Moonachie, NJ (PRWEB) September 17, 2011
Maiellano Car Rental, a leader in Europe & Spain car rental, and a brand of Central Holidays, is offering a free upgrade on Europe car rentals when customers book a 6-day Hertz rental (free upgrade from category D to E and from category N to F) with Maiellano between August 13 and October 25, 2011. Travel rental period is from November 1 through December 20, 2011, and January 1 through February 28, 2012. As always, all Maiellano car rentals include unlimited mileage, insurance, taxes & charges, 24 hours emergency roadside assistance, HERTZ Neverlost In-Car Navigation System (if available), and much more.
Maiellano Car Rental offers many advantages and a wide selection of vehicles from compact cars and economy models, to SUVs, convertibles, specialty cars, as well as minivans. All Europe and Spain car rentals feature insurance, unlimited mileage, 24 hours emergency roadside assistance, taxes & charges, and HERTZ Neverlost In-Car Navigation System. For an additional daily charge, a tourist can drive like a local with navigation systems available on request for a selection of vehicle categories and specific locations. These GPS systems provide turn-by-turn directions to points of interest and a menu with user friendly controls that are clear and simple. Maiellano Car Rental also offers the most recent model cars and clients can satisfy their urge by trying a new model. In all instances, Maiellano Car Rental offers rates that are considerably discounted and exceptional value.
Maiellano Car Rental has the ability and convenience to secure Hertz Europe and Spain car rental, with unlimited mileage, at discounted rates. They can offer itineraries, and even confirm hotel accommodations, making their Fly & Drive vacations easy and affordable. These types of vacation packages include options in Italy, Greece, Spain, Portugal and France; countries rich in history, culture, excitement, and romance, plus are hospitable and friendly. Travelers can cruise along winding country roads and highways, taking as much time as they like as they discover forests, peaceful valleys, historical castles, wildlife, churches, abbeys, as well as the world famous olive groves, vineyards, beaches, picturesque seaports, gourmet restaurants, rolling countryside, and a mild climate to enjoy it all. History and beauty is everywhere, as is the realm of discovery and romance.
About Maiellano Car Rental:
Spain car rental, Italy car rental, France car rental: In business since 1969, Maiellano Car Rental knows what travelers want as they look to rent car in Spain & Europe. Featuring affordable rates that include unlimited mileage, insurance, taxes, emergency roadside assistance, and more, Maiellano Car Rental has been a leader in sending travelers to Europe on Fly/Drive packages. For more information, contact Maiellano Car Rental at 1-800-223-1616 or visit their website at maiellano.com.
TECHNICAL CONTACT:
Anthony Berardo
Berardo Marketing Group, LLC
201-970-7698
bmg-website.com
###