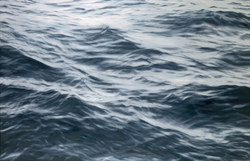 New York, NY (PRWEB) January 5, 2009
Spanierman Modern is pleased to announce the opening on January 29, 2009 of Clifford Smith. Consisting of twenty-four paintings this exhibition features new landscapes and seascapes by Smith (b. 1951), a contemporary representational artist who lives in New Hampshire.
Mostly rendered in large scale, Smith's images are imbued with hyper-reality. Radiating, ricocheting lights in a dark tunnel and a pollution-laden orange sunset are familiar yet surreal, both engaging and distancing us at the same time. The artist's gestural, painterly brushwork furthers this surreal quality as these crisp forms lose their definition and integrity at a nearer range.
Similarly, in the seascape paintings for which Smith is best known, we are pressed against the roiling movement of the sea, which spans the canvas with the variegated density in its surface. Simultaneously, the illusion we believed in seems to fade from our grasp. This surreal theme allows Smith to express his belief in the freedom of the artist to probe such ambiguous experiences. Smith moves us from our assured sense of reality, in the photographic quality of nature, to an inchoate experience, in the impressionistic rendering of the natural world, shaking us from complacency.
###