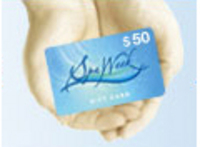 Spa Week is stepping up and doing something for its consumers as America is enduring this economic crisis
New York, NY (PRWEB) February 24, 2009
"Spa Week is stepping up and doing something for its consumers as America is enduring this economic crisis," says Ms. Reid, Founder of the Spa Week Brand. The promotion which is called Pay it Forward, can be found on the Company's website, http://www.spaweek.com, and it encourages people to pass on the opportunity to win a $50 Spa Week Gift Card. In each of the 25 markets that the Spa Week Event takes place, the Company will give away 5 - $50 Spa Week Gift Cards at random. By passing the e-mail along to 5 friends, consumers will be entered to win a Spa Week Gift Card. If all 5 of their friends enter as well, they will be put in the drawing for the Grand Prize, a spa vacation at Red Mountain Resort & Spa in St. George, Utah. It's all about demonstrating to others that no matter the scale of thoughtfulness or its monetary value, every little gesture of kindness adds up.
Spa Week's goal has always been bringing the wellness lifestyle to the masses. In such a stressful time in America, the Company wanted to give back in a way that could help people relax, and for free. Spa Week is rewarding those who pay it forward by giving them a chance to win an amazing vacation at Red Mountain, complete with meals, spa treatments, outdoor adventures, wellness classes, cooking demonstration and much more.
Spa Week strives to make wellness more than just a word by educating consumers on the health benefits of a spa lifestyle. The Company is taking a leadership role in the campaign to change the unhealthy course the country is navigating. For the 2009 Spa Week Events, Spa Week is proud and excited to announce the continuation of jane iredale The Skincare Makeup as its Title Sponsor and Allure Magazine as its exclusive National Media Sponsor.
The 10th edition of the Spa Week Event will be taking place April 13-19, 2009 in over 700 spas across North America including markets such as, Arizona, Atlanta, Austin, Baltimore, Boston, Chicago, D.C., Dallas, Denver, Detroit, Florida, Long Island, Los Angeles, Minnesota, New Jersey, New York, North Carolina, Philadelphia, Pittsburgh, Portland, San Antonio, San Diego, San Francisco, Seattle and Toronto, Canada, and will once again be offering its signature $50 full service spa treatments. A full list of participating spas will be posted on March 16, 2009.
For more information, visit http://www.spaweek.com or contact Lindsey at (212) 352-8098
###