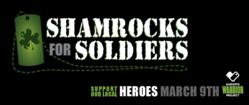 (PRWEB) March 04, 2013
MedEx Associates is proud to announce the 2nd annual Shamrocks for Soldiers Gala. The event will be held on March 9, from 7-11 p.m. at Sacred Heart Cultural Center. This black tie casino night will feature live music by The Tams, a silent auction, raffle, photo booth, red carpet, and more. Shamrocks for Soldiers benefits the Augusta Warrior Project, which aims to help improve the lives of US veterans.
The Augusta Warrior Project serves more than 66,000 veterans in the CSRA and helps them connect to resources to better their lives, such as: education, training, housing, employment, earned benefits, and healthcare. The project does not fundraise independently, but relies on community support and partnerships with local businesses.
Warriors can be nominated through The Augusta Chronicle and Main Street Digital, and three Warriors will be chosen to be guests of honor at Shamrocks for Soldiers. It's also not too late to be a sponsor and those interested can go to http://www.ShamrocksForSoldiers.com for more information.
The night will be filled with music, dancing, and fun. There will be heavy hors d'oeuvres by A Special Occasion Catering and desserts by Big Day Cakes Bakery. Augusta Liquors sponsored the wine and liquor for the bar. Revel Clothing in Round Lake Beach, IL is sponsoring tee shirts in part with The Indian Queen that can be purchased at http://www.revelclothing.com or the Shamrocks for Soldiers website. They will also be available March 9 at the event, and at The Indian Queen. Buy one in time for St. Patrick's Day!
Be sure to stop and have your photo taken on the red carpet sponsored by Acura of Augusta!
To purchase tickets for Shamrocks for Soldiers or for more information, please visit ShamrocksForSoldiers.com. Tickets are $70 and include 2 drink tickets, dinner, dessert, and $2500 in casino cash to get you started. If you can't attend the event, donations can be made on the website. For more information about the Augusta Warrior Project, please visit: augustawarriorproject.org.
About the company:
MedEx Associates, LLC is a multi-specialty medical clinic in Augusta, GA. MedEx focuses on treating complex cases such as infectious diseases, chronic non-healing wounds, and retroviral diseases such as HIV. MedEx Associates believes in giving back to the community and Shamrocks for Soldiers is one of many ways to give.
For more information, or to make an appointment, please visit MedExMD.com or call 706.434.1590.