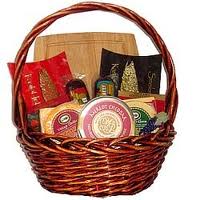 This company imports many of its products to help supply the public with better selections for cheese gifts online.
Chicago, Illinois (PRWEB) March 07, 2013
Cheese assortments are one popular gift for most holidays. The March 8th International Woman's Day has helped to create a new discount offer at the eCheese Co. All specialty cheese baskets are now discounted for this special holiday. This discount applies to the domestic and internationally produced cheese assortments that are stocked by this company online. More details can be located online at http://echeese.net/5432-Cheese_Gifts.html.
Gourmet cheeses are produced in the United States, Switzerland, Germany and France. Many of these types produced by international companies are not carried by retailers in United States. These products are considered specialty orders that must be purchased through distribution companies or catalog dealers.
Locating blends of different Cheddar, Gouda, Brie and other popular types are now possible due to the discounted pricing now announced online. The assortments and single blocks of these types can be researched before purchase.
Unlike chocolate assortments sold by retailers, cheese assortments usually come paired with different foods. The eCheese.net company now sells gift baskets and other assortment types that include meat, fish, cheese, recipe books and gourmet pâté. These baskets are frequently updated from different distributors to ensure that a variety is always available. This company imports many of its products to help supply the public with better selections for cheese gifts online.
The new design online by the eCheese Co. has made it easier for customers to search on the Internet. There are now thousands of products that are discounted on the company website. These discounts are in addition to the holiday types now in place. In an effort to better serve customers, shipments are now expedited by this company at no additional cost. The shipments are processed immediately after receipt to ensure delivery is made within the quoted time schedule.
Aside from the discounted assortments of cheese and baskets, this company supplies DVD and other cooking related products that can be added to the new discount offers. Both consumer and culinary grade cheeses are now supplied in the company inventory for sale.
About eCheese Co.
The eCheese Co. is a leading distributor of specialty cheese products on the Internet. This company offers alternatives to consumers compared to catalog companies or grocery stores. The discount programs frequently announced by this company help to reduce the cost of owning specialty cheese types from around the world. The eCheese Co. expedites its customer shipments to ensure delivery is made promptly inside the United States. All products that are distributed and sold online at his company come with the full manufacturer guarantees of product and usage freshness. The new discounts announced by this company are expected to remain in effect between the largest holiday seasons.