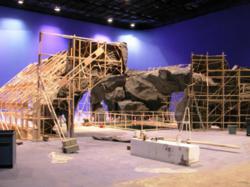 "The Australian and New Zealand markets have been crying out for a high quality moldable product" said Jim Dodd, Sales and Project Manager at Specialty Theatre
Melbourne and Singapore (PRWEB) November 21, 2012
Brusan™ is an environmentally friendly, patented, novel and unique scenic product, that combines the appearance of a textile with the formable characteristics of aluminum foil. It comes in either a single sided or double sided textile lamination.
Brusan molding cloth can be painted and easily cut and sewn or glued together. It is water repellent and flame retardant. Brusan is perfect for small, as well as large, applications such as stage and television scenery, exhibit or display stands, retail display and architectural details. It is also reusable, which is perfect for touring companies or those with limited storage space for sets from past productions.
Brusan was established in 2003 upon the acquisition of a patent from an Italian fashion designer for Yves Saint Laurent. In 2010, BZ 2.0 SAS acquired Brusan and since then has operated through a global network of distributors to meet the rapidly expanding worldwide demand for this unique scenic product.
The relationship with BZ2.0, manufacturers of Brusan, gives Australian, New Zealand and SE Asia customers access to an exciting new product range. Jim Dodd, Sales and Project Manager commented, "The Australian and New Zealand markets have been crying out for a high quality moldable product. This alliance with Brusan will take set theatrical set design and construction to a new level."
Laurens Delpech, International Sales Manager for Brusan noted, "Australia and New Zealand are exciting markets for us. We have seen the high quality theatre, television and film that is being produced in that part of the world. With the addition of Brusan moldable cloth, we believe that even higher standards are possible."
About Specialty Group Pty Ltd:
Since 1969, Specialty Group has been providing theatre, stage and cinema equipment and services to the performing arts and cinema exhibition industries in Australia, New Zealand and 28 countries around the world. Specialty Group operates under the Specialty Theatre and Specialty Cinema brand names and has offices in Melbourne, Auckland and Singapore.
Based in Paris, France, BZ2.0 is the manufacturer of Brusan molding cloth.