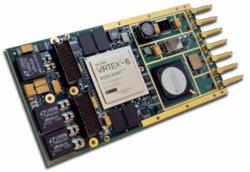 Spectrum is excited to offer customers one of the industry's fastest available 12-bit ADCs combined with high-density FPGA processing.
Burnaby, BC (PRWEB) November 12, 2010
Spectrum today announced the latest member of its family of analog I/O and processing modules, the XMC-1151. The XMC-1151 provides ultra-high speed analog-to-digital conversion (ADC) at 12-bit 3.2 GSPS combined with high-density FPGA processing in a rugged, space-efficient XMC (VITA 42.3) module. The XMC-1151 enables direct conversion of low-pass or bandpass analog or RF signals up to 1.6 GHz input bandwidth. This allows users to reduce overall system size, cost and power consumption for applications such as software defined radio (SDR), Electronic Support Measures (ESM), RADAR, and SIGINT.
"Spectrum is excited to offer customers one of the industry's fastest available 12-bit ADCs combined with high-density FPGA processing," said Douglas Fast, President of Spectrum. "The XMC-1151 satisfies our customers' need for an ultra-high bandwidth I/O and processing solution that is compact and modular enough to be deployed in a variety of applications in both benign and harsh environments."
The XMC-1151 uses the latest 12-bit National Semiconductor ADC12D1600 device, which supports sampling rates of up to 1.6 GSPS when operated in dual-channel mode, or 3.2 GSPS in single-channel interleaved mode. The ADC is tightly coupled with a large Xilinx Virtex-6 LX240T FPGA for high-bandwidth signal processing functions such as channelization, filtering, and demodulation.
Other notable features of the XMC-1151 include:

Up to 1 GB DDR3 SDRAM
XMC (VITA 42.3) form factor
PCI Express x8 Gen 2 supporting up to 4 GB/sec to host carrier
Rugged, conduction-cooled or air-cooled format
Multi-board synchronization for phase-coherent sampling applications such as beam forming, direction finding, emitter location and SIGINT
General purpose digital I/O including user-configurable high-speed serial links
For a full listing of features and specifications, visit the XMC-1151 product page
The XMC-1151 is compatible with third party single-board computers (SBC) and host carriers that support XMC (VITA 42.3) modules. Spectrum's quicComm™ software suite enables users to rapidly integrate systems with other Spectrum modules, carrier boards and SBCs. The XMC-1151 is also available with different FPGA options (LX130T to SX475T), and ruggedization levels including extended temperature and conduction cooling. A 3U OpenVPX™ (VITA 65) version of this module is also planned.
Call us today at 1.800.663.8986 to order. For more information, visit http://www.spectrumsignal.com.
ABOUT SPECTRUM SIGNAL PROCESSING BY VECIMA
Spectrum Signal Processing designs and builds board and system-level hardware solutions for demanding signal and video processing applications. Spectrum combines high-performance data acquisition (RF, analog and digital I/O) and reconfigurable signal and video processing hardware with its best-in-class support and engineering services to enable customers to rapidly develop and then deploy their products and systems. Spectrum has worked with both commercial and military customers worldwide to develop and deliver solutions optimized for Intelligence, Surveillance and Reconnaissance (ISR), video, military (MILCOM) communications and satellite communications (SATCOM) markets. For more information on Spectrum and its products, please visit http://www.spectrumsignal.com. Spectrum is part of Vecima Networks Inc and its products are designed and manufactured in Vancouver, British Columbia, Canada. See http://www.vecima.com for more information on Vecima.
FORWARD-LOOKING SAFE HARBOUR STATEMENT
Certain statements in this news release may constitute forward-looking statements which involve known and unknown risks, uncertainties and other factors which may cause the actual results, performance or achievements of the Company, or industry results, to be materially different from any future results, performance or achievements expressed or implied by such forward-looking statements. When used in this news release, such statements are generally identified by the use of such words as "may", "will", "expect", "believe", "plan", "intend" and other similar terminology. These statements reflect Vecima's current expectations regarding future events and operating performance and speak only as of the date of this news release. Forward-looking statements involve significant risks and uncertainties, should not be read as guarantees of future performance or results, and will not necessarily be accurate indications of whether or not such results will be achieved. A number of factors including, but not limited to, the factors discussed under "Risk Factors" in the Company's Annual Report dated September 28, 2009 available on SEDAR (http://www.sedar.com), could cause actual results to differ materially from the results discussed in the forward-looking statements. Although the forward-looking statements contained in this news release are based upon what management of the Company believes are reasonable assumptions, the Company cannot assure investors that actual results will be consistent with these forward-looking statements. These forward-looking statements are made as of the date of this news release, and the Company assumes no obligation to update or revise them to reflect new events or circumstances.
quicComm™ is trademark of Spectrum Signal Processing by Vecima. OpenVPX™ is a trademark of VITA. Other product and company names mentioned may be trademarks and/or registered trademarks of their respective holders.
# # #