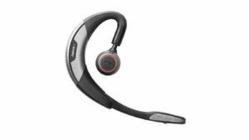 "We see the Bluetooth space opening with numerous possibilities this year and diversification into Unified Communications (UC)is just one of the exciting developments we've been expecting."
Raanana, Israel (PRWEB) March 01, 2013
Rubidium Ltd., a global supplier of embedded speech processing technologies, announced today that its longtime partner GN Netcom has unveiled a new series of Unified Communications (UC) headsets under its Jabra brand which includes the Jabra MOTION and the Jabra MOTION UC. The line is unique due to its use of motion sensors and microphones to monitor and react to environmental situations intelligently.
The integrated motion sensor and "intelligent" microphone allows the user to spend more time concentrating on the call, and less time adjusting and fiddling with the headset. One example of the motion sensor at work is the auto-on feature that turns the device on when it senses that it has been picked up. Likewise, if the user goes from sitting to walking, the audio will be tweaked to adjust for the change in noise that will result, ensuring that the call quality is not diminished. With Rubidium's voice control you can pick up or reject a call just by saying "answer" or "ignore", respectively.
In a statement released by Jabra, CEO Mogens Elsberg states, "We aim to help the mobile worker gain the full benefits from their mobile devices and UC solutions. It is our experience that one of the most important factors for users, embracing these communication platforms and devices, is the headset which bridges the gap between the users and the promise of efficiency and flexibility with sound."
Rubidium has been a valued CSR Extension Partner since 2009 and has millions of products in the Bluetooth headset and hands-free marketplace utilizing its speech recognition, text-to-speech and compressed speech playback technology. The Jabra MOTION series combined with Rubidium's industry leading embedded speech technology helps usher in a new generation of Bluetooth enabled UC headsets.
"We are very excited about the Jabra MOTION series," states Shlomo Peller, CEO and Founder of Rubidium Ltd. "The series marks our first foray into office space speech technology. By using level one Bluetooth technology, Jabra and Rubidium combine for a hands free office experience that can take place up to 100 meters from the workstation. We see the Bluetooth space opening with numerous possibilities this year and diversification into UC is just one of the exciting developments we've been expecting."
Rubidium has been a recognized innovator in embedded speech processing technology for domestic appliances and consumer applications since 1995, with a global install base exceeding 35 million products. Rubidium's multilingual voice user interface solutions, from low-cost chips and modules to embedded software, include compelling solutions such as TTS, ASR, speech compression and playback (e.g. speech storage, transmission and retrieval) as well as biometric speaker verification and identification.
########
About Rubidium Ltd.
Rubidium's speech technology offering covers the entire scope of a voice dialogue system: input, output and interaction. Rubidium is continuously innovating industry leading speech processing solutions for embedded applications, such as TTS, ASR, Speech Compression and Biometric Speaker Verification. Rubidium helps OEMs & ODMs provide customers with a hands-free, highly productive user experience. Rubidium's low cost, small footprint, multi-lingual speech processing solutions enable consumer product developers to get their products to market as fast as possible. Visit @RubidiumLtd on Twitter and YouTube and also at http://www.rubidium.com .
For more information on the Jabra MOTION UC Series visit Jabra.com.