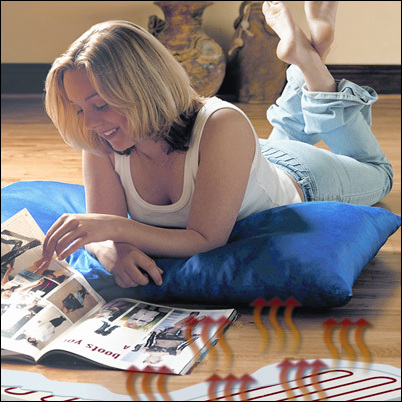 Because Speedheat's Generation4™ systems warm from the ground up, they produce evenly heated rooms that are more comfortable at lower temperatures
Atlanta, GA (PRWEB) February 22, 2007
Can 'green building' really make you healthy, wealthy and wise? To many builders and homeowners, the answer is a resounding yes. As residential green design concepts have become more mainstream, there is a growing movement to find unique products that improve indoor air quality, reduce energy costs and protect the environment all while enhancing personal comfort.
One unique 'green' product that is growing in popularity is electric radiant floor heating by Speedheat®. Their Generation4™ underfloor warming systems simultaneously promote health, conservation, safety and comfort, making them an ideal choice as a green building product. Although the concept of radiant heating has been around since Roman times, Speedheat® has taken this technology to the highest level with their energy efficient systems that are installed directly under virtually any flooring material.
"Speedheat® has always promoted conservation, efficiency, health and comfort," explains Pieter Jansens, Chairman of Speedheat International. "Since 1985, we have been educating consumers on the many benefits of electric radiant floor heating. Our proprietary G4™ systems are extremely efficient, so they help conserve energy, and they are powered by electricity, which is a renewable energy source. Speedheat's advanced floor warming systems also promote healthier environments and create luxurious warmth that enhances personal comfort. For all these reasons, Speedheat® is a smart choice to enhance green building initiatives."
Radiant Heating by Speedheat® is a Healthy Choice:
Green building and remodeling projects often address improving indoor air quality. In fact, poor indoor air quality is ranked as one of the top five environmental risks to public health by the Environmental Protection Agency (EPA). Studies also indicate that air pollution inside the home can be two to five times higher (and occasionally 100 times higher) than the air outside the home.
Speedheat's Generation4™ underfloor heating systems can help improve indoor air quality by reducing the levels of dust, pollen, mold, allergens and other pollutants spread by conventional forced air heating systems. The Department of Energy also says that radiant heating can be advantageous to people with severe allergies due to the lack of moving air.
Additionally, Speedheat's Generation4™ systems provide optimum thermal comfort at lower temperatures than conventional forced air heating systems. Lower air temperatures contain a lesser amount of moisture, which helps prevent the growth of mold and reduces the level of other air pollutants, thereby creating a healthier environment.
Conserving Energy with G4™ Systems is a Wealthy Choice:
The famous phrase "a penny saved, is a penny earned" certainly applies to energy conservation efforts. With heating costs continuing to rise, lowering the thermostat and installing energy efficient products and systems makes good fiscal sense from a green building standpoint.
In fact, the Radiant Heating and Cooling Handbook calculates that for every 10 degrees the thermostat is lowered, energy consumption is reduced by approximately 40 percent. While saving energy is desirable, staying comfortable is also important. With floor heating by Speedheat®, consumers can enjoy the best of both worlds.
"Because Speedheat's Generation4™ systems warm from the ground up, they produce evenly heated rooms that are more comfortable at lower temperatures," explains Peter Newman, President of Speedheat U.S. "When Speedheat® systems are installed throughout a home, users can easily reduce the thermostat by 10 degrees or more and still remain comfortable."
Additionally, because Speedheat's ultra thin Generation4™ heating element is optimally engineered to be 'in touch' with floor finishes, it warms floors faster than any other electric radiant floor warming systems and at lower, safer temperatures, so it uses less energy to operate.
Environmentally Friendly G4™ Products are a Wise Choice:
Green design promotes the concepts of sustainability, use of fewer natural resources, as well as the selection of materials that reduce energy demands, lower home maintenance costs and help protect the environment…all while addressing the occupant's desire for improved comfort.
Speedheat's Generation4™ systems use clean, electric energy that is a fast growing renewable resource. Speedheat® systems consume less energy to operate than conventional systems, so they lower energy demands. Generation4™ systems are solid-state and require no maintenance. They do not wear out and need never be replaced, making them better for the environment. G4™ systems also don't produce any odor, fumes, smoke, and they are silent.
In addition, only Speedheat's G4™ systems feature the patented PTCSelfControl™ self-regulating element that helps prevents overheating. The flexible heating element is the thinnest in the industry at less than 1/16" in diameter, and the multi-stranded core is protected with a tough outer sheath to resist abrasion and corrosion. All Speedheat® products have undergone rigorous testing, including complete submersion in water while energized. All systems feature a full-surround ground screen that is an effective EMR, EMI and RFI shield, and GFCI protection provides absolute electrical safety. Speedheat's products are all UL-listed and National Electric Code (NEC) compliant.
Speedheat® Makes it Easy to be Green:
Speedheat® is easy to install at any time, in any room and under virtually any floor covering (carpet, stone, floating wood, laminates, vinyl and more). Speedheat® is the ideal choice for new construction as well as kitchen renovations, bathroom remodeling, sunroom additions and basement finishing projects. Other G4™ products include TileWarm™ woodBEwarmer™ and CarpetMate™.
Speedheat® also offers a unique "zone heating" option called RugBuddy™ -- the only UL-listed heating mat in the world, approved for use under area rugs. RugBuddy™ is a portable heating blanket that plugs into a standard electrical outlet. It is an ideal solution when installing fixed radiant floor heating is not an option. Like an electric blanket for the floor, RugBuddy™ instantly turns area rugs into invisible space heaters and is an ideal floor warming solution for cold spots in any room of the home or office.
Additional Information:
For information about reseller opportunities in America, please contact Peter Newman. For general product information, pricing estimates and/or installation scheduling, please contact Ann Jones. Phone 1-888-WARM-FLOOR (1-888-927-6356), fax 1-888-927-6357 or visit http://www.speedheat.us.
###