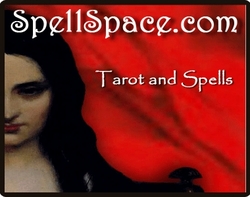 FANTASTIC! Absolutely love your site. Have searched and searched…..will always come here to do my readings
Lake Arrowhead, CA (PRWEB) September 22, 2009
SpellSpace.com, the premier site for free Tarot readings and beautifully crafted Spells, can now be shared with friends. Right now. Online. Real-time. What was once a solitary experience as an impersonal web site on the vast Internet is now a fun, easy-to-use and entirely interactive adventure with friends, new and old. It's never been easier to find new friends, share a psychic profile and chat during a marvelously accurate reading.
A completely unique and addicting website that debuted October 2007, SpellSpace.com continues to astonish visitors with unbelievably useful psychic services for free. Members can now view others' psychic profiles, displaying horoscope compatibility, last saved Tarot reading, recommended Spell, psychic karma trend, a descriptive "Me Word," and Tarot knowledge. If intrigued by someone's profile, they can invite that person to join their Tarot Room®. Where visitors and "voyeurs" can view their reading, chat and participate in its insights. Each reading reveals elegant spell recommendations from the metaphysical SpellStore designed to enhance love, work situation, or even luck, along with other magical products.
Whether a connoisseur, apprentice or novice, anyone can join a public Tarot Room®. Readings are saved to observe how accurate they were, build a "psychic trend" and to evaluate how love life, work or relationships are progressing.
SpellSpace.com combines cutting-edge technology with elegance, beauty and psychic power to unleash the ancient art of tarot. Our most loyal members already love SpellSpace and were anxious to try out the new interactive Tarot Rooms®. Here are a few comments:
"FANTASTIC! Absolutely love your site. Have searched and searched…..will always come here to do my readings" Lorelei J.
"This is an awesome site and I am glad to be part of it and will recommend to friends." Patti O.
"I'm really excited about this. I love the Tarot Rooms!" Cheryl R.
SpellSpace.com is available in both English and Spanish, where each person in the same Tarot Room® sees the reading in their native language, a truly international experience. SpellSpace.com is also announcing a special Tarot Room® Day event on September 28, 2009 at 5pm PST where members will meet-up, find new friends, join rooms, chat and be eligible to win prizes, more details can be found at the website.
So no matter what language, whether a believer or non-believer, a Tarot expert or rank amateur, or if just plain curious, visitors continue to discover an artistic, and now truly interactive place to explore Tarot, astrology and beautiful spells with no back-room ripoffs or impersonal, empty web sites to worry about. SpellSpace.com: now the only place on the Web for "Interactive" Tarot and spells.
###