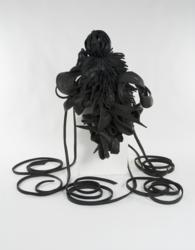 With its dynamic checklist by an impressive group of artists who have each earned considerable acclaim, this exhibition challenges viewers to reconsider the potential of common materials and stretch the boundaries of their own creativity. ~Andrea Barnwell
Atlanta, Georgia (PRWEB) August 20, 2012
Black rubber fragments from recycled tires have been painstakingly twisted, knotted and folded to create the complex and expressive abstract sculpture "Mixed Messages," by artist Chakaia Booker. "Mixed Messages" is one of 32 pieces included in "Material Girls: Contemporary Black Women Artists," an exhibition presented by Spelman College Museum of Fine Art. The exhibition, on view Sept. 6 through Dec. 1, 2012, explores the innovative ways that Black women artists fuse fine art and craft.
Booker and the six other artists featured in the exhibition have created three-dimensional works that exemplify the value of organic and man-made materials. Incorporating a range of materials including hair, beads, tissue paper, volcanic stone, rubber tires, and plastic, the artists are keenly attentive to the pleasures derived from the sense of touch. Using delicate and resilient materials, the artists have built monumental sculptures, shaped richly textured surfaces, applied intricate handiwork, and created provocative assemblages.
"Material Girls" was developed and organized by the Reginald F. Lewis Museum of Maryland African American History & Culture. "The caliber and creativity of the artists in 'Material Girls' is astounding," said Michelle Joan Wilkinson, Ph.D., director of collections and exhibitions at the Reginald F. Lewis Museum and the curator of this traveling exhibition. "Their sculptural works have a highly sensory appeal, ranging from the gleaming visual surfaces of hand-blown glass to the coarse textures of volcanic stone. A key concern is environmental issues, and many of the artists use recycled materials in their works."
According to Wilkinson, "Material Girls" affirms that Black women artists have been and continue to be leaders of innovation and artistic experimentation. The exhibition was loosely inspired by Alice Walker's seminal 1974 essay, "In Search of Our Mothers' Gardens: The Creativity of Black Women in the South," which examines how Black women have had an unyielding ability to harness their creativity, even through the most painful times. Walker, discussing women ranging from poet Phillis Wheatley to her own mother, describes how Black women's creativity—which historically has not been widely documented—has persevered.
Andrea Barnwell Brownlee, Ph.D., director of the Spelman College Museum of Fine Art, described the opportunity to present "Material Girls: Contemporary Black Women Artists" as a privilege and explained that it complements the museum's unique mission to focus on art by and about women of Africa and the African Diaspora. "With its dynamic checklist by an impressive group of artists who have each earned considerable acclaim, this exhibition challenges viewers to reconsider the potential of common materials and stretch the boundaries of their own creativity."
Major support for the Spelman College Museum of Fine Art's presentation of "Material Girls" has been provided by the Fulton County Board of Commissioners under the guidance of Fulton County Arts & Culture.
OPENING RECEPTION
The museum will host "Oh, MG!: The Opening Reception for 'Material Girls'" on Thursday, Sept. 13 from 6.30 p.m. to 8.30 p.m. Exhibition curator Michelle Joan Wilkinson, Ph.D. and artist Martha Jackson Jarvis are the special guests. Jackson Jarvis will participate in a discussion at 7 p.m. This event is free and open to the public.
ARTISTS BIOGRAPHIES
Chakaia Booker
A native of Newark, N.J., Chakaia Booker received her bachelor's degree in sociology from Rutgers University in New Brunswick and a master's degree in fine arts from the City College of New York. Booker's critically acclaimed abstract sculptures made of recycled rubber tires engage environmental concerns as well as issues of class, race, and gender. Booker has won countless commissions and is the recipient of numerous awards including a John Simon Guggenheim Fellowship, an Anonymous Was a Woman Award, and a Pollock-Krasner Foundation Grant. Her work has been the subject of several solo traveling exhibitions.
Sonya Clark
Sonya Clark utilizes organic and found objects to create visually stunning references to the cultures of the African Diaspora. Clark is a graduate of the School of the Art Institute of Chicago and Cranbrook Academy of Art. She is the recipient of several distinguished awards including a United States Artists Fellowship and a Pollock-Krasner Foundation Grant. Her work has been exhibited in more than 200 venues in Europe, South America, Asia and Africa, as well as in museums throughout the United States.
Maya Freelon Asante
Maya Freelon Asante's work has been exhibited internationally and is included in the collections of the Reginald F. Lewis Museum and the U.S. State Department. She has been awarded fellowships and residencies around the world including at the Skowhegan School of Painting and Sculpture, the Brandywine Workshop, and the Kokrobitey Institute of Ghana. Freelon Asante was awarded the C. Sylvia and Eddie C. Brown Studio at the Bromo Seltzer Arts Tower in Baltimore, where she participated in monthly open studios.
Maren Hassinger
Maren Hassinger, a Los Angeles native who is widely recognized for her innovated sculpture, is the recipient of numerous awards including the Anonymous Was A Woman Award and the International Association of Art Critics Award. She has received grants from the Gottlieb Foundation, the Joan Mitchell foundation, the Pollock-Krasner Foundation, and the National Endowment for the Arts. Her work has been the subject of many solo exhibitions, included in more than 120 group shows, and included in many collections such as AT&T and the Pittsburgh Airport. Hassinger is most celebrated for her keen ability to transform industrial materials, such as wire cable, newspaper and plastic bags, into innovative sculptures, which resemble objects found in nature.
Martha Jackson Jarvis
Martha Jackson Jarvis' work has been featured in exhibition in galleries and museums throughout the United States for more than three decades. Her sculptures and ceramics have also appeared in several group exhibitions including "Where Nature and Culture Meet" at the South Carolina Botanical Garden and "Contained and Uncontained" at the African American Museum in Dallas. She is the recipient of numerous awards including a Creative Capitol Grant in 2000. Jackson Jarvis's art has been the subject of solo exhibitions at the Corcoran Gallery of Art and Maryland Art Place. Her upcoming exhibition "Martha Jackson Jarvis: Ancestors' Bones" will be presented at the University of Delaware beginning in September 2012.
Joyce J. Scott
Joyce Scott, the descendent of generations of quilters and craft artisans, is a multidimensional artist working in sculpture, jewelry, printmaking, installation, and performance. Throughout her long career, she has drawn on a range of influences including African and Native American traditions. She fuses complicated subject matter such as stereotyping, violence, racism, gender roles, and the prejudice that we all confront at some point in our lives with dry wit and humor. Her 30-year retrospective "Kickin' It with Joyce J. Scott" traveled the United States beginning in 2005. Scott's work has been featured in more than 60 solo and group exhibitions at numerous museums across the country and internationally. She has been awarded honors from the National Endowment for the Arts, the Louis Comfort Tiffany Foundation, the Maryland State Arts Council, and Anonymous Was a Woman.
Renée Stout
Renée Stout grew up in Pittsburgh and in 1985 moved to Washington, D.C., where she began to create installations and mixed media assemblages that explore the roots of her African-American heritage and the culture and belief systems of African peoples and their descendants throughout the African Diaspora. She is the recipient of many distinguished awards including the David C. Driskell Prize, two Pollock Krasner Awards, and, most recently, the Janet and Walter Sondheim Artscape Prize.
TO SCHEDULE A GROUP TOUR
To schedule a group tour of "Material Girls: Contemporary Black Women Artists," please call 404-270-5606.
INTERACT WITH THE MUSEUM
To learn more about the exhibition "Material Girls: Contemporary Black Women Artists," please visit spelmanmuseum.org. To interact with the museum and its community and receive the latest museum news, follow the museum on facebook.com/spelmanmuseum, and twitter.com/spelmanmuseum. Once you arrive at the museum, please check in at foursquare.
ADDRESS
The Spelman College Museum of Fine Art is located in the Atlanta University Center on the Spelman College campus in the Camille Olivia Hanks Cosby Academic Center at 350 Spelman Lane.
For those using GPS navigations systems, the following address will bring you directly to the entrance of Spelman College: 440 Westview Drive, S.W. Atlanta, GA 30310.
HOURS
The museum is open Tuesday through Friday, 10 a.m. to 4 p.m. and Saturdays, noon to 4 p.m. The museum is closed Sundays, Mondays, major holidays and official College breaks. For more information on the Spelman College Museum of Fine Art, visit http://www.spelmanmuseum.org.
About Spelman College Museum of Fine Art
The Spelman College Museum of Fine Art provides a learning environment for students, faculty, staff, and alumnae. Museum activities enhance the cultural and intellectual development of the College's community through the collection, preservation, exhibition, and interpretation of important works of art. Artists affiliated with the Atlanta University Center are of particular interest. As the only museum in the nation that focuses on works by and about women of Africa and the African Diaspora in its collections, exhibitions and programs, the museum serves as a complement to local, regional, national, and international art resources.
About Spelman College
Founded in 1881, Spelman College is a highly selective, liberal arts college widely recognized as the global leader in the education of women of African descent. Located in Atlanta, Ga., the college's picturesque campus is home to 2,100 students. Outstanding alumnae include Children's Defense Fund founder Marian Wright Edelman; Sam's Club CEO Rosalind Brewer; JPMorgan Chase Foundation President Kimberly Davis; former acting Surgeon General and Spelman's first alumna President Audrey Forbes Manley; Harvard College Dean Evelyn Hammonds; author Pearl Cleage; and actress LaTanya Richardson Jackson. For more information, visit http://www.spelman.edu.