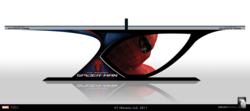 The Limited Edition Spider-Man table tennis table exclusively signed by Stan Lee and built expressly to raise funds for the SAEF organization and its Alzheimer's Table Tennis Therapy Program
Los Angeles, CA (PRWEB) August 22, 2012
The SAEF is proud to present the sale of its a one-of-a-kind, Limited Edition Spider-Man table tennis table exclusively signed by Stan Lee and built expressly to raise funds for the SAEF organization and its Alzheimer's Table Tennis Therapy Program. This table is accompanied by a Certificate of Authenticity (also signed by Stan Lee) warranting the limited edition number and the authenticity of his signature. Through the sale of this initial Spider-Man table tennis table, the SAEF was able to raise $28,000 for its Alzheimer's Table Tennis Therapy Program.
The Sport and Art Educational Foundation (SAEF) is a 501 (c)(3) non-profit organization currently dedicated to an innovative program designed to benefit individuals suffering from Alzheimer's and various forms of dementia through supervised programs in "table tennis therapy." Following their participation in the SAEF program, patients consistently experience an increased state of cognition, a stronger feeling of integration into their environment, and an overall improved sense of well-being.
In June of 2011, an extensive article regarding the SAEF and its unique program and benefits, appeared on the front page of the Los Angeles Times as the first column. The SAEF has also been featured in the Jewish Journal, REUTERS the International Business Times, USA Table Tennis Magazine, the Chicago Tribune, the Larchmont Chronicle, and a number of other publications. The SAEF Table Tennis Therapy Program serves nine Senior Care facilities with a multitude of clients throughout the Los Angeles area. It's a unique, one-of-a-kind program that improves the quality of life for everyone who participates in it - from patients to instructors, caregivers, family members, and the community at large.
If you would like more information about the SAEF table tennis table or the organization, please call 323 933-3703 or email sportandart(at)yahoo(dot)com. You can also visit http://www.SAEF.us for additional information.