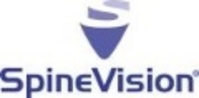 For example, preliminary data from an ongoing postmarketing study show that our PediGuard(TM) device facilitates a two-fold reduction of the risk of inadvertent pedicle screw
SAN FRANCISCO (PRWEB) February 27, 2008
Mr. Coyle has 17+ years of spinal device-related experience with K2M, DePuy Spine and Medtronic Sofamor Danek. He was most recently Western Sales Director for AOI Medical.
"We expect that James Coyle's considerable experience in the sale of spinal devices for some of the leading companies in our industry will empower him to quickly establish solid relationships with distributors throughout the United States, who will drive market penetration of SpineVision's great products such as our FDA-cleared PediGuard(TM) device," said Stephane Bette, General Manager of SpineVision's U.S. operations.
PediGuard(TM) is the first and only FDA-cleared Class II device for real-time detection of possible penetration outside the vertebral pedicle. Accuracy of pedicle screw placement is still an issue in spine surgery: published rates of intraoperatively 'misplaced' pedicle screws range from 10 to 40 percent, some of which result in pathological consequences such as spinal cord damage, including paraplegia or tetraplegia. Consequently, liability risks for spine surgeons are high.
"This is a very exciting time to be joining SpineVision," said Mr. Coyle. "For example, preliminary data from an ongoing postmarketing study show that our PediGuard(TM) device facilitates a two-fold reduction of the risk of inadvertent pedicle screw "misplacement" during lumbar degenerative spine surgery. Furthermore, the preliminary data show that use of PediGuard(TM) leads to a six-fold reduction of medial breaches and suggest an approximately 10 percent decrease in average screw-placement time, plus a reduction of surgeons' exposure to radiation by approximately 30 percent. The final results may likely be even more dramatic, because the more difficult thoracic and deformity cases will be included. This kind of clinical utility illustrates why we believe there will be significant demand for PediGuard, as well as SpineVision's other innovative products."
About SpineVision
SpineVision (http://www.spinevision.com) is exclusively focused on bringing innovative motion preservation and fusion devices to spine specialists around the world.