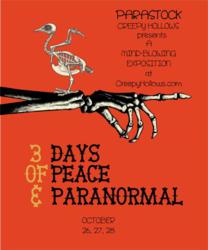 Be a part of paranormal history by attending!
(PRWEB) October 08, 2012
Interested in spirit keeping, Magick and the paranormal? On October 26, 27, & 28, 2012, Creepy Hollows will be hosting Parastock - 3 Days of Peace & Paranormal. Socialize and get to know other practitioners & their websites during the premiere paranormal Internet community gathering.
All activities will be hosted directly on the website of Magnolia & Ash West http://www.creepyhollows.com. Participate through the Forum http://www.creepyhollows.com/phpBB3 and the Chat Room http://www.creepyhollows.com/chat.html.
Magnolia West, co-owner of Creepy Hollows, says "This is going to be the single, biggest, online paranormal event that has ever taken place regarding spirit keeping, paranormal & haunted collecting, and Magick enthusiasm. Attend and be a part of paranormal history!"
They invite attendees to log in for all three days for mind-blowing experiences and all kinds of activities & learning opportunities. There will be three days of social events, games & prizes, informational seminars on topics like spirit keeping, and more.
It is a 100 percent free event open to all, including practitioners & sellers from all over the world who will host independent, private booths where participants can chat with them, find out more about who they are & what they offer. There will also be guest speakers present to discuss their expertise & share invaluable information on topics like spirit keeping.
"The information that is going to be offered is exclusive to this event, and isn't available anywhere else online. The guest speakers we have, and the practitioners who are participating, are all devoted to the paranormal community & care about the future of it online, and off," says Ash West, co-owner of Creepy Hollows. "Parastock is going to be an awesome festival of people who care about the community."
It's going to be a mind-blowing event and anyone who is anyone will be there.
Follow updates on the event's official Facebook page: http://www.facebook.com/Parastock