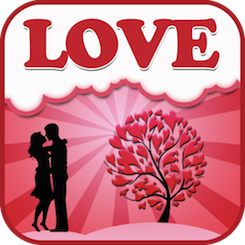 Unlock the secrets of love -- just in time for Valentine's Day! Discover if your affair is destined for heartache or lasting love.
Los Angeles, California (PRWEB) February 07, 2012
Past Life Lovers, an iPhone app created by internationally recognized psychic and best-selling author Anne Jirsch, has the power to guide people to see deeply into their relationships through a revolutionary form of spiritual meditation. The app guides love-birds through multiple lifetimes to explore the divine relations that exist in their love life.
The spiritual iPhone app, available for $1.99 on the iTunes app store, reveals hidden memories from past lifetimes in order to identify and resolve key relationship challenges. This Valentine's Day kindred souls can uncover past life experiences to see who they were, where they met, and how they fell in love.
"My boyfriend always calls me his princess. Our session together revealed our royal roots as prince and princess together in an ancient African kingdom," said Claire of Los Angeles, California.
Based on the belief in reincarnation, the iPhone app utilizes "past life regression" therapy to show that our relationships woes and joys have roots deeper than just in our current existence. Open-minded individuals will come to new realizations when they:

Determine if their soul is intertwined with their lover in previous lifetimes.
Break free from the binds that block the ability to fall deeply in love.
Release personal fears and relationship anxieties.
Kelly V. of Miami said, "My relationship with Tom was a tumultuous roller-coaster of highs and lows, yet neither of us could walk away. We realized that we were seeking revenge for pain we'd inflicted upon each other in past lives. It's time we change this destructive cycle."
Anne Jirsch's client base includes heads of industry, politicians, and celebrities of all kinds. She is the author of three books 'Instant Intuition,' 'The Future is Yours,' and 'Cosmic Energy.' She has appeared on BBC news, ITV news, as well as numerous television and radio shows, with regular slots on Star FM and BBC Radio.
Past Life Lovers was produced by DogTown Media LLC, a leading iPhone app developer in Los Angeles. The company creates cutting-edge mobile applications for the iPhone, Android, and iPad devices.
Visit PastLifeLovers.com to download the Past Life Lovers spiritual iPhone app. Further information on "past life regression" therapy is available on Anne Jirsch's website at AnneJirsch.com.
###