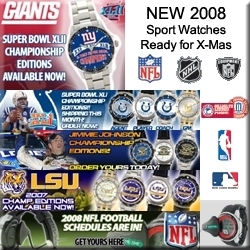 One Stop Shop for all you Gift Needs
Albuquerque, NM (PRWEB) October 8, 2008
MDK World Products, the leading online provider of quality watches, Gifts, Collectibles including Handcrafted Pewter, Alchemy Gothic. Announces the addition of the new 2008 fall collection of Licensed Sport Watches to their online inventory. This collection includes all your favorite teams, get anything needed for that Fantasy Football collection. MDKWP also has a new schedule watch that can be downloaded and schedules checked.
"At MDK World Products, select from more than 20 categories, whether it's a gift for him or her, for mom or dad, for a friend or a colleague, or for that someone special in your life. There's plenty to choose from and you're sure to find something that will impress", says Dan Kingsford, Founder of MDK World Products. "There's no better time than now, to tell someone you're thinking of them especially when you are miles away from home. Christmas is definitely the time for giving, not to mention, receiving."
"MDK World Products continues to revolutionize the industry with superior quality and affordability" says Dan Kingsford, president and founder of MDK World Products. "The new models are the finest and most reliable watches we have provided to our on line customers." Do Not forget all our Gifts and Unique Collectibles.
The new line-up of Sport Watches includes a wide array of men's, women's and kid's lines. In addition, watch enthusiasts can enjoy a large selection of Standard, Pro Trainer, Schedule, Pocket, Clip-On, Two-Tone and Diamond Bezel type watches. The new fall models are available now.
Treat yourself to a Fantasy Football team watch and tell all your friends that you're the serious one. Get our Schedule Watch and download your favorite teams schedule for the entire year, plug it into your computer with the USB cable and get updates as needed.
In addition to our exclusive collection of Sport Watches there are also high quality collectibles like Handcrafted Pewter with 97% Tin. From the Alchemy Gothic line to the Home Accents, Lighting, Luggage, Seasonal Décor and Pet's Corner, MDK carries it all. With over 9000 total products and growing, MDK World Products will have it or can find it, just call or email. 505-890-9944 sales(at)mdkwp.com
For more than 10 years, MDK has been leading the industry with the latest styles and innovations. Since its foundation in 1998, MDK has continued to provide one revolutionary product after another, including the creation of the world's first "One Stop Shop for all you Gift Needs". Throughout the years of innovative history, MDK has provided some of the most elegant and high-quality watches at the most affordable prices.
MDKWP.com is an authorized licensed sport Watch dealer. All MDK Watches are sold new, in their original box, and include a complete manufacturer's warranty and manual. The new models are available at MDK World Products. Included in this collection is a very nice Ladies Sport Watch Series along with styles for the kids, let them play along and pick their own Fantacy Football team.
About MDK World Products
MDKWP.com was founded in 1998 with a goal to combine the finest quality time pieces and premier customer service within the online marketplace. Beginning with collectibles, MDKWP.com has expanded its line and now carries all licensed NFL, MLB, NBA, NHL, NASCAR and all College Teams. Now our store has become one of the largest online watch depots with more than 3500 watches and several different styles, and has established award winning customer service.
MDK World Products started modestly in California as a home based business and has grown over the years to a substantial office based business in Albuquerque New Mexico. From the start, MDK World Products has done everything they can to rate the highest possible scores for customer service and have exceeded this goal every year. With their new team, they plan on growing over 200% by end of year 2009. Let MDK World Products show their dedication by checking out their web site at http://www.mdkwp.com
###