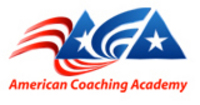 All but a million of those are volunteer coaches at the youth level, and 90% of those individuals have little or no training in coaching.
Carson City, NV (PRWEB) May 6, 2008
The American Coaching Academy warns that untrained volunteer coaches are putting young athletes at risk in alarming numbers.
"There are an estimated 3.5 million youth sport coaches in the United States," says Dr. Ryan Hedstrom, Professor of Sports Administration at Castleton State College. "All but a million of those are volunteer coaches at the youth level, and 90% of those individuals have little or no training in coaching."
Many volunteer coaches are recruited to the role because their child plays on the team. And while the commitment is admirable, most fail to understand (and are often not informed) that their responsibility extends beyond simply showing up for practices and games. In addition to being a sport-specific trainer, effective coaches must also master the roles of teacher, motivator, mentor, leader, medic, and disciplinarian.
Coaches are often among the top 5 most influential adults in a child's life (along with parents, teachers, and religious leaders). This is not a responsibility to be taken lightly. Inadequately trained coaches can unintentionally damage a child's self esteem when simply trying to offer helpful feedback. Not to mention the risk of physical injury that could occur when a coach lacks necessary safety and injury prevention knowledge.
"In the United States, we've gone on too long by thinking that youth sports will take care of itself," says Hedstrom. "We need to have positive adult leadership, and it comes down to one word: education. We need to have more coaching education."
Until recently, coaching education has been a time-consuming process, forcing participants to take time away from their jobs and families to attend clinics or traditional classroom courses. The American Coaching Academy has recently launched an attractive alternative: Online Coaching Education.
Coaches can now enroll, attend, and complete sports coaching courses from the comfort of their home or office computer. Each course is designed to give coaches practical tools they can easily remember and call upon when faced with everyday coaching challenges. Topics cover everything from Philosophy and Ethics to Practice Planning to Parent Management. After completing the course and passing an online competency exam, coaches can earn a respected credential in the field of sports coaching.
American Coaching Academy courses are developed and reviewed by a panel of coaching experts. Dr. Larry Lauer, Director of Coaching Education and Development at the Institute for the Study of Youth Sports, Michigan State University weighs in saying "Anyone who goes through this program will benefit from it and become a better coach."
More information can be found at: http://www.americancoachingacademy.com
###