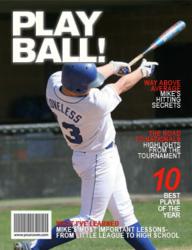 Created 3 personalized covers for 3 amazing coaches - they cried - overwhelmed with emotion. This is a gift they will always remember and cherish.
Wilton, CT (PRWEB) March 29, 2013
The spring sports seasons are in full swing around the country, so parents, coaches and team members have begun thinking about the gifts and team keepsakes they might like to give out at the year-end banquet or party. YourCover has added to its roster of magazine cover choices to include additional spring sports.
Personalized fake magazine covers are available for baseball gifts and softball gifts (the PLAY BALL cover template), tennis gifts would utilize the TENNIS magazine cover, lacrosse gifts would be made from the LACROSSE template, track gifts can be created from the TRACK STAR or RUNNING fake magazine cover themes, and golf gifts can be made with the GOLF REPORT magazine cover. The CHAMPIONS personalized magazine cover is the perfect choice for the successful team's gift and the BEST COACH fits the bill for coach's gifts.
To make a magazine cover sports gift, the consumer chooses the appropriate template in the YourCover online magazine cover editor. The second step is to upload a photo and the last step is to personalize the headlines to be all about the athlete, team or coach featured in the photo. Consumers can purchase a photo file download for self-printing or YourCover can print and frame the covers for a completed gift.
Shoppers that need a personalized sports gift for each individual athlete will find the duplication feature in the cover editor to be particularly helpful. After completing the initial design of the first athlete's magazine cover, the user clicks the 'duplicate' link, this creates an exact copy of the first cover. The user simply edits the duplication with the photo of the next athlete and revises the headlines to reflect that player's name and statistics.
YourCover has been offering personalized sports gifts since 2000 and has received excellent customer reviews averaging 4.5 out of 5 stars.