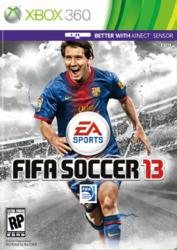 Detroit, MI (PRWEB) September 21, 2012
FIFA 13 is preparing to become another strong soccer (football) game for gamers worldwide. The game, made by EA Sports, will be available for the Xbox 360, Playstation 3, Playstation Vita, Nintendo Wii beginning on September 25. The game will be available on the Nintendo Wii U later in the year. The game will be available at SportsFanPlayground.com.
The series, over a decade old, has established itself as the top franchise for international soccer games and has helped to develop interest in the game worldwide.
FIFA 13 has some of the deepest features in the history of the game in the 2013 edition. New features include the 1st touch control system, the ability to exploit 1-on-1 scoring opportunities, and a deeper career mode that allows for a player to control a player or manager in league, exhibition or international tournament mode.
Many people around the world look for apparel from their top FIFA-based league, such as the Barclays Premier League, MLS, etc. SportsFanPlayground.com, has many of the top soccer (football) jerseys from club and international teams around the world. Teams such as Real Madrid, Manchester United, and Chelsea are represented in the store, with jerseys from top stars such as Wayne Rooney, Kaka, Lionel Messi, Drogba, Fernando Torres being available at low prices.
For more information, visit SportsFanPlayground.com.
Facebook - facebook.com/sportsfanplayground
Twitter - Twitter.com/sportsfanplay
Pinterest - pinterest.com/fanplayground
About SportsFanPlayground.com -
The Sports Fan Playground is a leading online e-commerce provider of sporting goods, including items from the NFL, NHL, MLB, NCAA, UFC, WWE, NASCAR, and NBA. The store will also have classic signed memorabilia which will include balls, bats, jerseys, hats, gloves and other apparel. The store also carries many basic items for tailgating, golfing, bowling, workout gear and various other items for active activity.
Recently, SportsFanPlayground.com added a variety of electronics which range from tablets, PCs and cameras to video games, DVDs, Blu-Ray Discs, appliances, lawn and garden products, iPhones, iPods, iPads and more. The site carries top IT and office solutions from Cisco, Apple, HP, Microsoft and many other top brands available.The store recently began taking preorders on the upcoming Nintendo Wii U and its games and accessories.