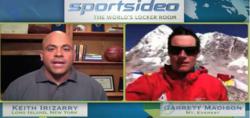 ......through the interviews with Sportsideo... I hope to share not only the technical aspects of the climb (on Mt. Everest) but also the hardship, perseverance, excitement, and victory that climbers experience in this endeavor.
Huntington, NY (PRWEB) March 25, 2013
Sportsideo announced today that it will interview Alpine Ascents International's Garrett Madison direct from Mt. Everest during his upcoming expedition to summit the world's highest mountain. Sportsideo's first interview with Garrett Madison will take place from Mt. Everest's Base Camp in mid-April, and will follow Madison throughout the expedition that will culminate with Madison's anticipated summit at the end of May. The interviews with Madison during his expedition will again be conducted by Keith Irizarry, and will be seen on Sportsideo.
"Sportsideo is very excited to share this remarkable sports experience with our global sports community. Climbing Mt. Everest is awe inspiring and a metaphor for every person who has ever participated in any sport, joined with others to overcome adversity and achieve a common goal, or set their eyes on a seemingly impossible task and succeeded. We feel privileged to be associated with Alpine Ascents International, one of the world's leading Mountain Climbing Organizations, and to be able to bring this truly remarkable experience to all sports participants throughout the world," said Steve Vesce, Managing Director of Sportsideo.
"Our interviews with Garrett Madison during Alpine Ascents International's 2012 Everest expedition marked Garrett's 5th Summit of Mt. Everest, and gave our community the rare opportunity to experience climbing Mt. Everest through the eyes of one of the world's greatest climbers. As we now know, weather conditions and hazards during last year's Mt. Everest season made it particularly challenging for many expeditions, and unfortunately claimed the lives of 6 climbers on summit day. It is remarkable to be able to witness the on the ground experiences of climbers during one of the most challenging, inspiring, dangerous, and daunting feats in all of sports. We are looking forward to sharing this year's Mt. Everest expedition with Garrett and sharing this incredible sports experience with our global sports community," concluded Vesce.
Gordon Janow, Director of Programs and one of the Founding Members of Alpine Ascents International commented "We are really excited to work with Sportsideo to deliver our Cybercasts from Everest to a global sports community. Those of us in the Climbing community are really excited to be able to share the power and impact of the Everest climb with all participants in sports. Today, our technologies can bring the near real time experience of climbing the highest summit in the world through the eyes of one of the best guides in the world to the desk top of virtually any person in the world. This is a very exciting opportunity to share one of the world's most unique and challenging experiences. "
Garrett Madison commented "Sharing the experience of climbing Everest with the sports community is an honor and a privilege. Through the interviews with Sportsideo I hope to share not only the technical aspects of the climb but also the hardship, perseverance, excitement, and victory that climbers experience in this endeavor."
You can see all of the interviews with Garrett Madison from Alpine Ascent International's 2012 Mt. Everest expedition on Sportsideo.com and click on Videos, or click here to see Sportsideo's May 6, 2012 interview with Madison direct from Mt. Everest, with Madison and Irizarry discussing conditions and the need to establish new route to the Summit, and some of the equipment used during the expedition.
About Alpine Ascents International
Founded by famed climber Todd Burleson (Eight Everest Expeditions and one of the first Seven summiteers), Alpine Ascents has been one of the world's most famed and touted guide services for the past twenty years. Alpine Ascents has been guiding climbers on Everest and the tallest mountain on each continent for most of their history and their mountaineering school has called "the best in the business" by Outside Magazine. Featured in news media from The New York Times to CNN, their focus is on guiding the world greatest peaks by some of America's foremost alpine mountaineers. For more information, please visit http://www.AlpineAscents.com
About Garrett Madison
Garrett Madison is America's premier Everest guide, having personally stood on the top of the world with 27 clients over the last 4 years, more than any other American guide. Garrett Madison successfully led the 2012 Alpine Ascents Everest team to the summit of Everest on May 20th, being the only climbers to summit that day, and without any injuries. Earlier on the evening of May 19th, 6 climbers lost their lives near the summit (North & South routes combined) as the weather turned and they were not able to make it back to high camp. As the 2011 Alpine Ascents International Everest and Lhotse Expedition Leader, Garrett led the first ever successful expedition where climbers successfully reached the summit of two 8000 meter peaks in less than 24 hours. During this historic climb Garrett also personally guided one of the climbers peak to peak in 21 hours. This expedition resulted in 100% climber success on Everest and the first ever success in climbing and guiding the Everest-Lhotse combination peak to peak. Garrett has been Expedition Manager and overseen guiding operations at Alpine Ascents International since 2007. For more information: http://www.garrettmadison.com/about-garrett-madison
About Sportsideo
Sportsideo is the fast growing sports social network of pro and amateur athletes, fans, coaches, scouts, trainers, nutritionists, executives and news reporters. Connect with others in your favorite sports – share your sports knowledge and experience – collect High 5's and grow your "Fan" base. This is the "pro experience" – the same experience enjoyed by professional athletes whenever they enter their locker room – free, easy and instant access to the people and information in your sport. Sportsideo began with two simple beliefs: 1) Participating in sports is good and helps children and adults lead happier, healthier and more fulfilling lives; and 2) people who share sports experiences improve their understanding of, and respect for each other. Join Sportsideo and keep current on the latest on Sportsideo by visiting Sportsideo's Facebook page, and following us on Twitter.