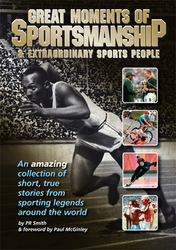 Great Moments of Sportsmanship - and extraordinary sports people
London, England (PRWEB) March 13, 2009
A new book heralding great acts of sportsmanship is launched today. The book, "Great Moments of Sportsmanship - and extraordinary sports people", targets sports fans, coaches and participants of every gender and generation. It is available from the sportsmanship web site, Amazon.co.uk and can be ordered from most good book stores including Waterstones.
London-based Dubliner, PR Smith, compiled the unique collection of true two-minute stories and soon discovered how the brotherhood of sport brings the best out of people.
Smith's palette is far and wide, ranging from tales from the world of rugby to that of Olympic fencing. The usual suspects are here - the WWI football match between the trenches - but there are other heart warming stories few would have heard. It is a kaleidoscope of sport compiled by a sports fan who believes that, now more than ever, we need to recognize and encourage the sporting men and women who hold true to the real meaning of "taking part."
Smith says: "I love sports heroes who, in the white heat of battle, faced with the tightest margins of winning and losing, choose to be true to the real spirit of competition - integrity, honesty and friendship."
"I have spent the last five years compiling the book - and I had forgotten how many sportspeople embody the real spirit of sport. Even today, when sport is so often about money and winning regardless of the cost - where every minutiae of advantage must be squeezed from an opponent - there are sporting heroes out there who still uphold the Corinthian tradition."
So popular is the book's pre-launch sales from word of mouth - that it has spawned a http://www.greatmomentsofsportsmanship.com which is already a magnet for sports enthusiasts who are adding their own stories and videos to the blog. The site has already attracted compliments from the IOC, the IRFU, English football clubs as well as a growing number of sports stars including Ryder Cup hero, Paul McGinley, Lions hero Ollie Campbell, Ex-England rugby captain, Nigel Melville and champion jockey Richard Dunwoody.
Smith confesses: "I believe the real sports heroes play hard but above all play fair. Judging by the initial public's response there are lots of true sports men and women out there."
Charities: A percentage of all profits goes to three charities: Right To Play (helping underprivileged children participate in the joy of sport); Clic Sargent (a young person's cancer charity) and The Stuart Mangan Appeal (a young rugby player who broke his neck in London).
The 220 page book retails at £9.99.
# # #