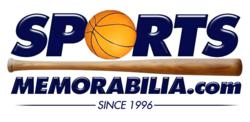 National Football League (NFL) memorabilia makes up 34% of total autographed memorabilia sales.
Miami, FL (PRWEB) April 10, 2013
Sports fans have long debated which sports are most popular, but recent statistics from the autographed sports memorabilia market have ended the debate. According to a 2012 study conducted by SportsMemorabilia.com, National Football League (NFL) memorabilia makes up 34% of total autographed memorabilia sales. Major League Baseball (MLB) is a close second, comprising 26% of all sales. Surprisingly, just ten percent of memorabilia sold comes from the National Basketball Association (NBA), while National Hockey League (NHL) memorabilia and college sports memorabilia each make up only seven percent of sales. Overall, these five leagues account for 82% of revenue.
The top five most popular sports teams and players are from the NFL and MLB. The New York Yankees is the most popular team. The Dallas Cowboys, known as "America's Team," is second, followed by the New York Giants, Pittsburgh Steelers, and Green Bay Packers. The most popular player is quarterback Eli Manning, followed by his brother, quarterback Peyton Manning. In third place is former Braves third baseman Chipper Jones, the only baseball player to appear in the top five. Baltimore Ravens linebacker Ray Lewis and 49ers legend Joe Montana occupy the fourth and fifth spots, respectively. Sales rankings include one team and three players that were not present in the top five in popularity rankings. The Chicago Bulls are the only NBA team to appear in the top five teams by memorabilia sales, finishing fifth with 2.4% of all sales. Memorabilia signed by former Bulls star Michael Jordan is second among players with 1.8% of total sales. The top five best-selling players list concludes with Yankees great Mickey Mantle and Patriots quarterback Tom Brady. Clearly, sports analysts are accurate when they say quarterbacks are the most valuable position. Three of the top five most popular and top five best-selling players are NFL quarterbacks. In addition, the past is just as important as the present in sports memorabilia sales, with historic legends Michael Jordan, Mickey Mantle, and Joe Montana placing high in these rankings.
Baseball and football's dominance of the memorabilia market is also supported by statistics that separate sales by item. The most-sold items are those that are not sport-specific, such as autographed jerseys (24% of all sales) and photos (23%). The next most frequently purchased items clearly confirm the strength of the NFL and MLB in this market. Signed helmets and baseballs each encompass eight percent of total sales, followed by footballs (5%) and mini-helmets (3%).
The NFL and MLB's hold on the market is not overly shocking considering the geographic breakdown of sales. Football is popular primarily in the United States, and baseball is often called "America's Pastime." SportsMemorabilia.com reports that 93% of all memorabilia sales occur in the United States. Within the U.S, most memorabilia sales are from customers in California, New York, Texas, Florida, and New Jersey.
The market for licensed (unsigned) sports merchandise is $12 billion, with the autographed market estimated to be $1.5 billion. The average order value of autographed memorabilia is $180, but can reach as high as $300. In fact, the most expensive piece of memorabilia ever sold was Babe Ruth's game-used jersey, sold at $4.4 million. Sports memorabilia tends to increase in value over time, which is why authenticity plays such an important role in the autographed memorabilia industry. Signed collectibles are often authenticated by one of the three main authentication agencies, Professional Sports Authenticator, James Spence Authentication, and Global Authentics. Currently, SportsMemorabilia.com carries 100% certified, authentic memorabilia in circulation across 23,000 athletes and 516 teams.
SportsMemorabilia.com is a leading online retailer for licensed and autographed sports merchandise. While the domain itself dates back to 1996, it was acquired by co-founders Jesse Stein, Stefan Tesoriero, and Mike Gallucci in 2006. Since then, the business has shown consistent year-over-year growth. It has also established a well deserved reputation for providing only 100% authentic items, and for offering the highest quality customer service. The e-retailer is ranked a top retailer by Internet Retailer for the past 3 years. In addition to fans, SportsMemorabilia.com has cultivated a broad corporate client base, and has become the go-to destination for many sports bars, casinos, and restaurants.