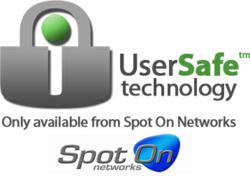 New Haven, CT (PRWEB) September 24, 2012
Spot On Networks, LLC ("SON"), the largest provider of managed Wi-Fi to the U.S. multifamily housing market, today announced the appointment of Thomas Doyle as SON's President and Chief Operating Officer, according to Richard J. "Dick" Sherwin, Chief Executive Officer. Mr. Doyle will be responsible for all day to day operations at SON including Sales, Project Management, Network Operations and Technology, among others. Mr. Doyle will assume his new role effective immediately.
Mr. Doyle brings more than 20 years of relevant industry experience to his new role at SON, having previously served as Spot On's Senior Vice President since May, 2006. Prior to joining Spot On Networks, Mr. Doyle was vice president at mobile software company Software Corporation of America, Stamford, CT and helped grow that business prior to its acquisition by Motorola in 1999. From 1999 until 2006, Mr. Doyle held various positions within Motorola. Mr. Doyle has a BA from Columbia University in NYC and an MA in Economics from NYU.
"Tom's long track record of proven leadership at SON make him the obvious choice to assume the role of President at Spot On Networks, providing me with more time to focus on long-term strategy. Tom has led the technical operations of SON since 2006 and was responsible for the direction and implementation of our proprietary software and hardware platform that manages all of our Wi-Fi networks. Tom has played a key role in implementing and overseeing operations of Spot On Networks and has been instrumental in developing the products and technology that put Spot On at the forefront of the Wi-Fi industry", said Sherwin.
About Spot On Networks, LLC: Spot On Networks is the leading provider of managed WiFi networks in the U.S. multifamily housing market. SON provides managed Wi-Fi to the multifamily, hospitality and commercial industries, while providing a Wi-Fi backbone that supports energy management, building automation and security monitoring.