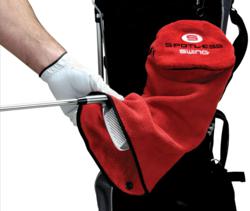 It won't not save you marriage.
Boulder, CO (PRWEB) April 03, 2013
BrightSpot Solutions®, LLC maker of the Spotless Swing Golf Towel, announced the release of their latest video. Taking a humorous approach to their product, the short video explains the features and benefits of Spotless Swing mixed with tongue in cheek commentaries.
Towels are often overlooked in their importance to the golfer and the video includes an exaggerated look at Spotless Swing's usefulness. The video concludes by explaining how the towel can save one's marriage.
Scott Salzman, President of BrightSpot Solutions and inventor of Spotless Swing stated, "Companies will sometimes inflate claims about their product. We know we are not going to save the world with a golf towel. But we'll settle for taking a few strokes off of someone's game." When questioned about the saving marriages claim he added, "It won't not save you marriage."
About Spotless Swing
Until Spotless Swing was introduced to the golf world, the only way to clean the mud and dirt from golf clubs was to wet a standard towel or use a brush. However, brushes are awkward, messy and a watered down towel dries out rendering it useless.
Spotless Swing is the alternative. A portion of the inside of the mulit-use golf towel is made of a uniquely designed MicroBrush™ fabric that easily cleans the grooves of the club-face where dirt hides from ordinary towels. The fabric is coarse enough to clean deeply into the grooves yet soft enough to not damage the golf club finish, and absolutely no water is needed. The ultra-high quality microfiber fabric that makes up main body of Spotless Swing absorbs over 600% of its weight in dirt, mud and water.
Spotless Swing Golf Towel functions as three towels in one:
1. Outside keeps the hands, face, glove and grips clean and dry;
2. Inside protects and preserves golf clubs by removing dirt, mud and water;
3. Revolutionary MicroBrush fabric cleans club grooves effortlessly preparing the club for its next shot.
Spotless Swing is available in eight colors: Black (with red trim), Red (with black trim), Solid Black, Pink, Royal Blue, Navy Blue, Hunter Green and White. The golf towel conveniently attaches to any golf bag with the included carabineer clip.
Custom embroidery is available for Spotless Swing. The towels can be logoed for golf events or as a promotional golf product.
About BrightSpot Solutions, LLC:
BrightSpot Solutions was founded by Scott Salzman in 2003 as an outlet for invention. BrightSpot has created an entity of unparalleled functionality and professionalism providing consumers and professionals with the absolute highest quality and functionality amongst its products. Our commodities promote healthy environments for humans and animals alike.
Members of the media interested in testing Spotless Swing for editorial review should contact Scott Salzman for a sample.
For more information about Spotless Swing or using Spotless Swing as a golf promotional product, visit: http://spotlessswing.com/