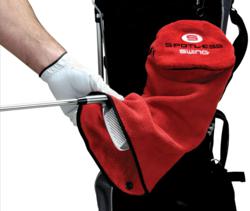 I don't think that this a routine award they normally give out. The writers at PGA.com must have had a lot of fun with our press release and created the award for it.
Boulder, CO (PRWEB) March 08, 2013
BrightSpot Solutions®, LLC maker of the Spotless Swing Golf towel is proud to announce that their recent press release titled "Oh Great, Another Boring Press Release" earned the award, "Best Press Release of the Week" at the prestigious PGA.com website. According to PGA.com writer, John Holmes, "We are routinely inundated with press releases in these days just beforehand (of the PGA Merchandise Show). But one we got Thursday stands out above all the others." Holmes' story further elaborated on the aspects of the release which earned the title.
Scott Salzman, inventor of the Spotless Swing Golf Towel and President of BrightSpot Solutions, "We were looking for a way to bring attention to Spotless Swing prior to the 2013 PGA Merchandise Show. With so many new and exciting products on exhibit, and recognizing that a golf towel is not necessarily a 'must see' product at the show, we put together a humorous and fun press release to garner attention and it succeeded" Salzman also added, "The popularity of our Spotless Swing golf towel resulted in it being featured in PGA.com's 'What's the Buzz' section at two prior shows. Being featured on PGA.com really helps to spread the word about Spotless Swing."
The original press release can be read on the Spotless Swing website.
About the Spotless Swing Golf Towel
Spotless Swing: The 3-in-1 golf towel:
1. Outside keeps the hands, face, glove and grips clean and dry;
2. Inside protects and preserves golf clubs by removing dirt, mud and water;
3. Revolutionary MicroBrush™ fabric cleans club grooves effortlessly.
A portion of the inside of the Premium Multi-Use Spotless Swing Golf Towel is made of a uniquely designed MicroBrush fabric that easily cleans the grooves of the club-face where dirt hides from ordinary towels. The fabric is coarse enough to clean deeply into the grooves yet soft enough to not damage the golf club finish, and absolutely NO WATER is needed! The ultra-high quality microfiber fabric that makes up main body of the Spotless Swing absorbs over 600% of its weight in dirt, mud and water.
Spotless Swing is available in eight colors: Black with red trim, Red with black trim, Solid Black, Pink, White and their three newest colors: Royal Blue, Navy Blue and Hunter Green.
The towel conveniently attaches to any golf bag with the included carabineer clip.
Spotless Swing can also be custom logoed for golf promotional events.
Media members who are not interested in testing Spotless Swing Golf Towel for an editorial review, should contact Scott Salzman.
About BrightSpot Solutions, LLC:
BrightSpot Solutions was founded by Scott Salzman in 2003 as an outlet for invention. BrightSpot is determined to create an entity of unparalleled functionality and professionalism seeking to provide both consumers and professionals with the absolute highest quality and functionality amongst its products. Our commodities promote healthy environments for humans and animals alike.
For more information about Spotless Swing or custom logoed towels as a golf promotional product, visit: http://spotlessswing.com/Wholesale.