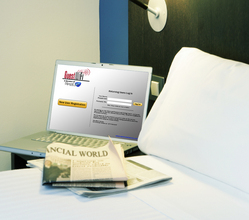 We are very excited about our new Hospitality Division. As a result of the merger, Spot On will be servicing more than 100 hotels in the United States. -Dick Sherwin, CEO, Spot On Networks
New Haven, CT (PRWEB) October 6, 2010
Spot On Networks, LLC ("Spot On") and GuestWiFi today announced the merger of their joint hospitality services in which Wi-Fi high speed wireless broadband internet access is provided to hotels across the United States.
An upgraded service offering has been made available to hotels driven by the increased demand for Wi-Fi services in hotels, coupled with the need for additional security and reliability of wireless network services.
Joe Germanotta, Founder of GuestWiFi has been appointed President of GuestWiFi, the Hospitality Division of Spot On Networks. He summarized the effect of the merger – " Spot On has been providing customer support and back office services to GuestWiFi for some time. This has made our service robust and helped fuel our growth. The ever increasing requirements demanded by hotels, including multi-homing bandwidth, guest authentication, bandwidth management and CALEA compliance, have already been addressed by Spot On's design team, and have been implemented in multiple locations over the last two years. We expect to provide these services to hotels easily and smoothly, enhancing hotel internet access capabilities."
"We are very excited about our new Hospitality Division. As a result of the merger, Spot On will be servicing more than 100 hotels in the United States, and we expect to rapidly expand the customer base with our increased focus on hospitality," said Dick Sherwin, Chief Executive Officer of Spot On Networks, LLC.
Spot On Network's website has been updated to reflect their services for both hotels and hotel guests: http://www.spotonnetworks.com/guestwifi.php
About Spot On Networks: Spot On Networks is the largest service provider of high speed Wi-Fi Internet to the multifamily housing industry. Utilizing various technologies, Spot On Networks provides high speed Wi-Fi capabilities throughout a residential complex that replace the need for DSL or Cable Modem services while providing complete mobility and faster service within that complex.
###