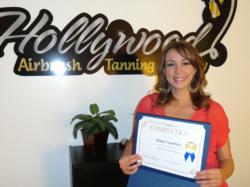 I am confident that I have chosen the best place to go to receive my training.
Los Angeles, CA (PRWEB) March 22, 2013
Jamie Sanchez, an experienced hair styling professional from Long Beach, California is the latest student to complete her spray tanning certification program from the Hollywood Airbrush Training Academy. Her own spray tanning business Beach Glow Tanning is now offering premium quality sunless tanning services in Lakewood, Cerritos, Los Alamitos, Cypress, Garden Grove and Fountain Valley, California. Hollywood Airbrush Training Academy's career oriented training program has played a pivotal role in helping many spray tanning enthusiasts to make their mark in this emerging field. The Southern California based spray tanning training academy was founded in 2011 by renowned airbrush tanning expert Simone Emmons, and is presently the most sought after training destination across the country to learn the techniques of spray tanning. In addition to the hands-on spray tanning training, the academy also educates all students on a variety of spray tanning solutions, spray tanning equipment and helps them in marketing and setting up their own website.
Unlike many other students from Hollywood Airbrush Training Academy, Jamie is no stranger in the world of beauty and wellness. Talking about her interest in airbrush tanning, she says, "I took interest in airbrush tanning to find a healthier alternative to tanning beds and sun bathing. I love being at the beach, but I can't stand to get a sunburn. I am a hair stylist at Thairapy Salon and Spa in Long Beach. I have a wonderful clientele and decided to branch out my training to the airbrush tanning industry. I have a lot of clients who cannot be out in the sun and would like a natural, healthy glow without the sun damage." Revealing her business goals, she also mentions, "My future goal for 2013 is to build my mobile spray tanning business serving the Long Beach area. I would like to bring awareness to my clientele about the potential dangers of the sun and tanning beds, and give them a healthier alternative with a natural glowing spray tan."
In the spray tanning training session at the Hollywood Airbrush Training Academy, students are taught advanced spray tanning techniques of skin tanning without exposure to harmful ultraviolet radiation that is known to cause several skin related problems including skin cancer. The founder and chief instructor of the academy Simone is also a business promotion expert and provides valuable marketing support for all her students. Thanking Simone for all her guidance, Jamie said, "Hollywood Airbrush Training Academy has not only made me more confident in my spray tanning technique but has also given me the tools to build my mobile spray tanning business, as well as my Hairstyling business. Simone has created a great network of people who are always there to answer questions and share their knowledge with you. I am confident that I have chosen the best place to go to receive my training. Thank you Simone!"
Beach Glow Tanning can be reached at 562-753-1255 or at their website at http://www.Longbeachglow.com
About Hollywood Airbrush Tanning Academy:
Hollywood Airbrush Tanning Academy is located in Los Angeles, California and offers an extensive Airbrush Tanning Certification program to anyone who wishes to learn the art and business of spray tanning. Simone Emmons, the creator of the spray tanning training program has been a professional, licensed spray tanning technician and teacher and has helped numerous entrepreneurs from Utah, Colorado, Nevada, Minnesota, Arizona, South Carolina, Washington, Oregon, Florida, Oklahoma, California and the Island of Hawaii and Trinidad start a business in Airbrush Tanning. The spray tanning program is unique because it provides hands-on and private spray tanning training to individuals who want to start an Airbrush Tanning Business. According to Emmons, this spray tanning program gives individuals a leading edge in starting an Airbrush Tanning business immediately after finishing with the training. Students have the option to choose from a full day course of 10-12 hours or two half day courses of 5-6 hours a day or through live video conferencing. The academy is also launching a website soon so students can learn Airbrush Tanning Online. Many tanning training institutions only educate students on their own equipment and products they sell, however Hollywood Airbrush Tanning Academy does not sell any of their own products and provides training and education on all equipment and good products in the airbrush tanning industry.
Individuals interested in learning and starting a career in airbrush tanning should visit the website at http://www.HollywoodAirbrushTanningAcademy.com or for more detailed information about the airbrush tanning classes visit 1DaySprayTanTraining.com