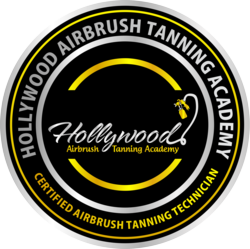 Looking at the nationwide demand for our certification program, we are now trying to expand to different regions across the country.
Los Angeles, CA (PRWEB) June 26, 2013
America's most recommended hands-on training center for aspiring spray tanning technicians Hollywood Airbrush Tanning Academy continues their steady progress. This Southern California based academy has just achieved the praiseworthy distinction of training 100 students. It may be recalled that Hollywood Airbrush Tanning Academy was founded in the year 2011 by experienced airbrush tanning expert Simone Emmons. Simone's long term objective behind starting her spray tanning training academy was to give back and assist entrepreneurial men and women to make their mark in this rapidly growing industry. Most of the students of the academy are currently well placed in the industry as the owners of their own independent airbrush tanning businesses.
Airbrush tanning is now the preferred choice for most of the tanning enthusiasts because this tanning procedure does not expose their skin to the sun and its harmful UV rays. Through her hands-on airbrush tanning training program, Simone helps her students understand and master each aspect of sunless tanning. Being a marketing expert herself, Simone also provides branding support to all her students. Hollywood Airbrush Tanning Academy is presently in an expansion mode and has recently appointed their former student Kristi Walker as a trainer. Interestingly, the 100th student of the academy received her training from Kristi in Plainfield, Illinois.
Expressing her pleasure about reaching this creditable milestone, Simone said, " This is certainly a proud moment for all of us at Hollywood Airbrush Tanning Academy. It has been an amazing journey since the academy was formed in 2011. I am thankful to all my students who made it possible and look forward to continuous growth." Revealing her future plans, she also stated, "Looking at the nationwide demand for our certification program, we are now trying to expand to different regions across the country. However, we would always prefer quality over quantity at Hollywood Airbrush Tanning Academy."
About Hollywood Airbrush Tanning Academy:
Hollywood Airbrush Tanning Academy is located in Los Angeles, California and offers an extensive Airbrush Tanning Certification program to anyone who wishes to learn the art and business of spray tanning. Simone Emmons, the creator of the spray tanning training program has been a professional, licensed spray tanning technician and teacher and has helped numerous entrepreneurs from Utah, Colorado, Nevada, Minnesota, Arizona, South Carolina, North Carolina, Illinois, Indiana, Washington, Oregon, Florida, Oklahoma, Alaska, California, Canada and the Island of Hawaii and Trinidad start a business in Airbrush Tanning. The spray tanning program is unique because it provides hands-on and private spray tanning training to individuals who want to start an Airbrush Tanning Business. According to Emmons, this spray tanning program gives individuals a leading edge in starting an Airbrush Tanning business immediately after finishing with the training. Students have the option to choose from a full day course of 10-12 hours or two half day courses of 5-6 hours a day or through live video conferencing. The academy is also launching a website soon so students can learn Airbrush Tanning Online. Many tanning training institutions only educate students on their own equipment and products they sell, however Hollywood Airbrush Tanning Academy does not sell any of their own products and provides training and education on all equipment and good products in the airbrush tanning industry. Recently, the academy added an additional trainer to hold airbrush tanning classes on the East Coast. Weekly classes are now also available in Charlotte, North Carolina and Lewisburg, West Virginia.
Individuals interested in learning and starting a career in airbrush tanning should visit the website at HollywoodAirbrushTanningAcademy.com or for more detailed information about the airbrush tanning classes, visit 1DayAirbrushTanningTraining.com.