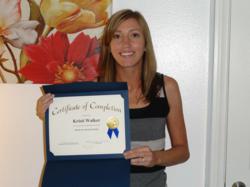 The spray tanning training program provided by the Hollywood Airbrush Tanning Academy gives individuals a leading edge in starting an Airbrush Tanning business
Los Angeles, CA (PRWEB) September 04, 2012
Kristi Walker, a former sales professional and work-from-home mom from Chicago, has made her mark in the growing airbrush tanning business in Agoura Hills, California. After graduating from the Hollywood Airbrush Tanning Academy, Kristi has just launched "West Coast Glow", her own independent mobile airbrush tanning business. Hollywood Airbrush Tanning Academy is a premium spray tanning training academy that has produced some of the finest airbrush tanning technicians throughout the United States.
The trend and rapid growth of the airbrush tanning industry throughout California continues, thanks to Hollywood Airbrush Tanning Academy. The Los Angeles based training center has been instrumental in building many aspiring airbrush tanning professional's career through their airbrush tanning classes. Most of the students of the academy, coming from all parts of the country, have now started their own spray tanning business. Their most recent graduate, Kristi Walker, left her sales career long ago to look after her kids. The mother of three beautiful children recently moved from Chicago to Agoura Hills, California and has now opened her own airbrush tanning business. Under the brand name of West Coast Glow, she is offering mobile spray tanning services throughout Agoura Hills and Calabasas, California. She can be reached at (818) 963-3401 or at http://www.wcglow.com.
Airbrush tanning has gained remarkable popularity in the recent years because it can provide the same glowing effect without the potential risk of overexposure to ultraviolet rays. The owner and founder of Hollywood Airbrush Tanning Academy Simone Emmons is an exponent of the art of spray tanning. She has spent several years of her life providing state of the art spray tanning service to several celebrities, movie stars, and sports personalities. In her popular spray tanning certification program, students learn all relevant aspects of spray tanning technique and also provides marketing tips to kick start a new business. Praising her latest graduate, Simone says, "Kristi is an amazingly energetic woman with unusual capabilities. She has all the qualities to be an excellent spray tanning expert".
Apart from being a busy mom, Kristi is also a Beachbody coach for a popular line of shakes that assist people wanting to lose weight. She has also had a Jockey P2P clothing business in the recent past. "I chose to leave my last job in sales to be at home full time with my three children. I decided that being in a new city and having all of my children in school would be a perfect opportunity to start my own business. I hope to master airbrush tanning and expand my business by learning new and innovative ways to provide the best service possible to my clients." says Kristi, about her latest carrier venture. She has also thanked the Hollywood Airbrush Tanning Academy for their support behind her success.
About Hollywood Airbrush Tanning Academy:
Hollywood Airbrush Tanning Academy is located in Los Angeles, California and offers an extensive Airbrush Tanning Certification program to anyone who wishes to learn the art and business of spray tanning. Simone Emmons, the creator of the spray tan training program has been a professional, licensed spray tan technician and teacher and has helped numerous entrepreneurs from Utah, Colorado, Nevada, Minnesota, Arizona, California and the Island of Hawaii and Trinidad start a business in Airbrush Tanning. The spray tan program is unique because it provides hands-on and private spray tanning training to individuals who want to start an Airbrush Tanning Business. According to Emmons, this spray tanning program gives individuals a leading edge in starting an Airbrush Tanning business. Students have the option to choose from a full day course of 10-12 hours or two half day courses of 4-5 hours a day. Many tanning training institutions only educate students on their own equipment and products they sell, however Hollywood Airbrush Tanning Academy does not sell any of their own products and provides training and education on all equipment and good products in the airbrush tanning industry.
Individuals interested in learning and starting a career in airbrush tanning should visit the website at http://www.HollywoodAirbrushTanningAcademy.com or for more detailed information about the course at 1DaySprayTanTraining.com