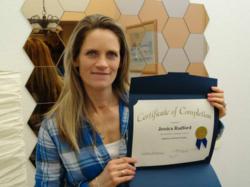 The success of the trainees is the biggest reward for any trainer. I wish her all the best and look forward to help many more trainees like Jessica to set up their own independent airbrush tanning business
Los Angeles, CA (PRWEB) May 07, 2012
Hollywood Airbrush Tanning Academy is proud to announce its latest graduate Jessica Radford from Bakersfield, California. The buzzing city of Bakersfield is now growing in airbrush tanning, thanks to Jessica and her newly acquired skill. The busy mom of three has been bartending for the past ten years and decided it was time for a new career. Like many, Jessica wanted to pursue into a thriving industry and make people more beautiful. Jessica is most excited to give people a youthful glow and have a business that is fun, flexible and here to stay. Jessica is mobile in the city of Bakersfield, California and can be reached at (805) 758-2290 or at http://www.BakersfieldSprayTanning.com. The credit behind Jessica's feat certainly goes to Hollywood Airbrush Tanning Academy and its charismatic founder Simone Emmons.
Simone's Los Angeles based Airbrush Tanning Training Center attracts students from across the nation. Her expertise is highly sought after because she is experienced and knows the proper techniques of skin color matching, use of the HVLP spray gun and best business practices to thrive in the Airbrush Tanning industry. The airbrush tanning trend is increasing and is certainly here to stay. Therefore, starting a spray tanning business is logical and lucrative. The dangers of the sun and tanning beds is leading to more people seeking a healthy alternative to a sun kissed glow. A certification from the Hollywood Airbrush Tanning Academy provides their trainees an edge in the artistry, beauty, and flawless techniques to be successful in airbrush tanning. Many students like Jessica now prefer Simone's training as a launching pad to an extremely lucrative business opportunity.
Hollywood Airbrush Training Academy has helped many of its trainees to find an alternative career that is much more rewarding than their previous one. Talking about Jessica and her new tanning business, Simone says, "The success of the trainees is the biggest reward for any trainer. I wish her all the best and look forward to help many more trainees like Jessica to set up their own independent airbrush tanning business". Jessica has expressed her gratitude towards Simone saying, "I can't thank Simone enough for what she has done to help me. She is a great trainer and an amazing person ".
About Hollywood Airbrush Tanning Academy:
Hollywood Airbrush Tanning Academy is located in Los Angeles, California and offers an extensive Airbrush Tanning Certification program to anyone who wishes to learn the art and business of spray tanning. Simone Emmons, the creator of the spray tan training program is a professional, licensed spray tan technician and teacher and has helped numerous entrepreneurs from Utah, Colorado, Nevada, Minnesota, Arizona and California start a business in Airbrush Tanning. The spray tan program is unique because it provides hands-on and private Spray tanning training to individuals who want to start an Airbrush Tanning Business. According to Emmons, this spray tanning program gives individuals a leading edge in starting an Airbrush Tanning business. With the change in tanning bed laws and general tanning apprehension in the public due to health concerns, the spray tan industry is presently experiencing great growth.
Individuals interested in learning and starting an Airbrush Tanning business should visit the Spray Tan Training website at 1DaySprayTanTraining.com