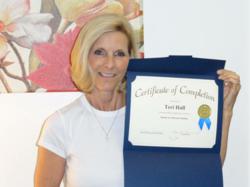 The academy continues to support its students even months after completion of their training course
Los Angeles, CA (PRWEB) February 01, 2013
The enviable track record of Hollywood Airbrush Tanning Academy continues with yet another student of the institution making her presence felt in the beauty and wellness market. The academy's latest graduate Teri Hall has followed the footsteps of the previous graduates of the academy to start her own spray tanning business. Under the brand name of Airbrush Tanning by Teri, she is now serving the Upland, Claremont, Rancho Cucamonga and Laverne, California area. Teri has been a successful fitness industry professional for 32 long years, and decided to expand her options to help people feel better with a tan.
Airbrush tanning is an emerging trend in the beauty and wellness industry and refers to the process of skin tanning in the absence of sunlight. Increasing public awareness about the ill effects of UV radiations has resulted in extreme popularity of airbrush tanning in the recent years. Led by the charismatic spray tanning technician and trainer Simone Emmons, Hollywood Airbrush Tanning Academy has built a stellar reputation throughout the country as the number one airbrush tanning training destination. In addition to teaching the advanced techniques of spray tanning, Simone also guides all her students to set up their own business. Most importantly, the academy continues to support its students even months after completion of their spray training course.
Spray Tanning and fitness training can certainly be a great combination for Teri Hall's expanded business because her existing clients come to her to look and feel good, and now she can give them the extra booster by spray tanning them, too. When asked about her decision to expand her business, Teri says," I have been a California girl all my life and no matter what time of year it is, you always feel better with a tan. I had my first spray tan for my daughter's wedding and wow I felt great in my dress! That's when I decided I wanted to do this for my clients! My clients will enjoy the addition of tanning to their overall fitness". Airbrush Tanning by Teri can be reached by calling 909- 576-4458 or by email at ternrazz (at) yahoo (dot) com.
About Hollywood Airbrush Tanning Academy:
Hollywood Airbrush Tanning Academy is located in Los Angeles, California and offers an extensive Airbrush Tanning Certification program to anyone who wishes to learn the art and business of spray tanning. Simone Emmons, the creator of the spray tanning training program has been a professional, licensed spray tanning technician and teacher and has helped numerous entrepreneurs from Utah, Colorado, Nevada, Minnesota, Arizona, South Carolina, Oregon, Washington, Oklahoma, Florida, California and the Island of Hawaii and Trinidad start a business in Airbrush Tanning. The spray tan program is unique because it provides hands-on and private spray tanning training to individuals who want to start an Airbrush Tanning Business. According to Emmons, this spray tanning program gives individuals a leading edge in starting an Airbrush Tanning business immediately after finishing with the training. Students have the option to choose from a full day course of 10-12 hours or two half day courses of 5-6 hours a day or through live video conferencing. The academy is also launching a website soon so students can learn Airbrush Tanning Online. Many tanning training institutions only educate students on their own equipment and products they sell, however Hollywood Airbrush Tanning Academy does not sell any of their own products and provides training and education on all equipment and good products in the airbrush tanning industry.
Individuals interested in learning and starting a career in airbrush tanning should visit the website at HollywoodAirbrushTanningAcademy.com or for more detailed information about the course at http://www.1DaySprayTanTraining.com