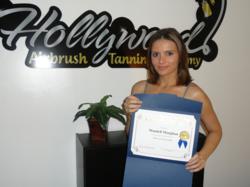 Our hands-on training sessions are extremely useful for businesses like StrongTan
Los Angeles, CA (PRWEB) May 28, 2013
Hollywood Airbrush Tanning Academy is now making life easier for businesses looking to make their presence felt in the emerging field of airbrush tanning. Strongman Enterprises, a highly acclaimed health and fitness business from Los Angeles, have decided to venture into the field of sunless tanning and train several technicians in order to offer custom airbrush tanning services to their customers. Strongman Enterprises is owned by fitness trainer Ben Strongman Maughan and the business has been successfully operating Strongman Fitness and West LA Boot camp since the last 13 years. One of the technicians from Strongman Enterprises has already received hands-on training from Simone Emmons, the highly charismatic owner of the Hollywood Airbrush Tanning Academy.
Talking about his decision to venture into the field of airbrush tanning, Ben Strongman Maughan said, "Our future goal is to become a competitive airbrush tanning company in Southern California. We wanted to learn airbrush tanning to better serve our current clientele and to provide them with a healthy alternative to sun tanning. The training has provided confidence for my technician as well as an outlet for her to gain experience."
The just formed custom airbrush tanning business StrongTan is located in the Hollywood hills next to Universal Studios. They intend to use only vegan products that are chemical free and great for the skin. In addition to using the highest quality of tanning products, the company is also planning to have all their future technicians certified by the Hollywood Airbrush Tanning Academy.
Strong Tan can be reached by visiting the website at http://www.strongtan.com or by calling 818-515-8786.
Since the inception of the Hollywood Airbrush Tanning Academy in 2011, this training center has been providing top class hands-on airbrush tanning training to individuals looking to become successful spray tanning technicians. Their association with Strongman Enterprises is a significant one as the academy is looking to offer services to many more existing beauty and wellness businesses in the days to come.
Talking about her future plans, Simone said, " We are looking to expand our training in the near future. Our hands-on training sessions are extremely useful for businesses like StrongTan. We are looking forward to help more health and beauty businesses in the future."
About Hollywood Airbrush Tanning Academy:
Hollywood Airbrush Tanning Academy is located in Los Angeles, California and offers an extensive Airbrush Tanning Certification program to anyone who wishes to learn the art and business of spray tanning. Simone Emmons, the creator of the spray tanning training program has been a professional, licensed spray tanning technician and teacher and has helped numerous entrepreneurs from Utah, Colorado, Nevada, Minnesota, Arizona, South Carolina, North Carolina, Washington, Oregon, Florida, Oklahoma, Alaska, California, Canada and the Island of Hawaii and Trinidad start a business in Airbrush Tanning. The spray tanning program is unique because it provides hands-on and private spray tanning training to individuals who want to start an Airbrush Tanning Business. According to Emmons, this spray tanning program gives individuals a leading edge in starting an Airbrush Tanning business immediately after finishing with the training. Students have the option to choose from a full day course of 10-12 hours or two half day courses of 5-6 hours a day or through live video conferencing. The academy is also launching a website soon so students can learn Airbrush Tanning Online. Many tanning training institutions only educate students on their own equipment and products they sell, however Hollywood Airbrush Tanning Academy does not sell any of their own products and provides training and education on all equipment and good products in the airbrush tanning industry. Recently, the academy added an additional trainer to hold airbrush tanning classes on the East Coast. Weekly classes are now also available in Charlotte, North Carolina and Lewisburg, West Virginia. Additional training is also scheduled in Chicago, Illinois in June 2013.
Individuals interested in learning and starting a career in airbrush tanning should visit the website at HollywoodAirbrushTanningAcademy.com or for more detailed information about the airbrush tanning classes visit 1DayAirbrushTanningTraining.com.