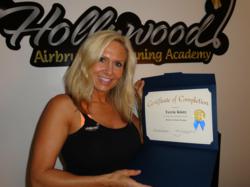 Only licensed estheticians can do airbrush tanning in the state of Oregon.
Los Angeles, CA (PRWEB) October 19, 2012
America's popular airbrush tanning training center Hollywood Airbrush Tanning Academy has just announced the graduation of their latest student Terrie L. Klotz from Portland, Oregon. Terrie is already an experienced professional in the beauty industry. She has a sound academic background in this field and is also a licensed esthetician. It must be mentioned here that only licensed estheticians can do airbrush tanning in the state of Oregon. Terrie's professional service is available under the brand name of Alter Ego Studio, and she now covers airbrush tanning, too. Apart from spray tanning, Terrie also offers full body waxing, natural nail care, and facials. Terrie is also in the process of opening her new business location in the Pearl District as of November 1, 2012. Her new business location is located at 1722 NM Raleigh, Suite 105, Portland, Oregon 97209. She also covers mobile spray tanning to nearby areas such as Portland, Beaverton, Lake Oswego, Hillsboro, West Linn and Tualatin. Terrie can be reached at (503) 206-9472 or on her website at http://www.myalteregostudio.com.
Airbrush tanning is the latest beauty trend amongst people who love to get tanned, but are worried about the adverse impact of UV rays on the skin. As a result of its emerging popularity, many young individuals now aspire of a career in spray tanning. Hollywood Airbrush Tanning Academy provides them the perfect platform to learn how to spray tan and build a rewarding spray tan business. The highly energetic and experienced founder of the academy Simone Emmons is known for her spray tanning prowess and personalised and hands-on training. She is also a marketing genius and helps her students in setting up their own airbrush tanning business venture.
Over the last few months, Hollywood Airbrush Tanning Academy's popularity has grown even beyond the geographical boundaries with students enrolling from the Caribbean islands and Hawaii. To keep up with the popularity of her academy, Simone is now offering training sessions through video conferencing, to accommodate students who can not fly in to Los Angeles. Talking about her decision to learn airbrush tanning, Simone's latest student Terrie said, "I wanted to get into airbrush tanning because of the harm the sun and tanning beds can cause. I started worrying about skin cancer and how UV rays can destroy the skin causing it to age. Looking into alternative steps for myself, I thought how great it would be to offer this as a service to clients who have the same concerns about being out too much in the sun."
About Hollywood Airbrush Tanning Academy:
Hollywood Airbrush Tanning Academy is located in Los Angeles, California and offers an extensive Airbrush Tanning Certification program to anyone who wishes to learn the art and business of spray tanning. Simone Emmons, the creator of the spray tanning training program has been a professional, licensed spray tanning technician and teacher and has helped numerous entrepreneurs from Utah, Colorado, Nevada, Minnesota, Arizona, South Carolina, Oregon, California and the Island of Hawaii and Trinidad start a business in Airbrush Tanning. The spray tan program is unique because it provides hands-on and private spray tanning training to individuals who want to start an Airbrush Tanning Business. According to Emmons, this spray tanning program gives individuals a leading edge in starting an Airbrush Tanning business. Students have the option to choose from a full day course of 10-12 hours or two half day courses of 4-5 hours a day or though live video conferencing. Many tanning training institutions only educate students on their own equipment and products they sell, however Hollywood Airbrush Tanning Academy does not sell any of their own products and provides training and education on all equipment and good products in the airbrush tanning industry.
Individuals interested in learning and starting a career in airbrush tanning should visit the website at http://www.HollywoodAirbrushTanningAcademy.com or for more detailed information about the course at http://www.1DaySprayTanTraining.com