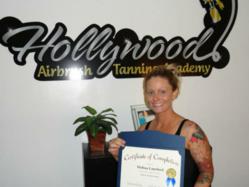 The Hollywood Airbrush Tanning Academy training program is different because it teaches students hands-on spray tanning and in private settings
Los Angeles, CA (PRWEB) January 11, 2013
Reputed spray tanning training center Hollywood Airbrush Tanning Academy continues to grow in terms of their reputation. They have announced their latest certified Airbrush Tanning Technician to emerge in the growing field of airbrush tanning. This form of sunless tanning is now preferred much more than the traditional form of sun tanning because it saves the skin from exposure to ultraviolet radiation. However, being an emerging field, finding a proper training platform to become a spray tanning professional is not easy. Simone Emmons, the owner and the founder of Hollywood Airbrush Tanning Academy, is one of the most proficient spray tanning experts in the country. She continues to run her own Airbrush Tanning business on a daily basis. Her knowledge, experience, and caring approach have led to the exemplary success of the Hollywood Airbrush Tanning Academy. The academy program is different because it teaches students hands-on and in private settings. The Hollywood Airbrush Tanning Academy only takes on 1-2 students each class because they focus on each student individually. This is why the spray tanning program has a high success rate.
Melissa Lunsford has been a successful healthcare professional teaching CPR, First Aid, and AED courses for the American Red Cross and the American Heart Association for several years. She has also worked as an Emergency Medical Technician and a Medical Assistant for a dermatology practice. Talking about her decision to learn airbrush tanning, she says, "There are several reasons why I wanted to learn airbrush tanning and the most important one was when I was working in Dermatology, I was exposed to so many people with sun damage and Melanoma and the thought of laying out in the sun to get some color was just not an option for me anymore. I am a fair skinned person so I was always laying out or going to the tanning salon to try and achieve some color and came across airbrush tanning, which I fell in love with immediately, I could get tanner than I ever would laying out in the sun and it only took a few minutes!"
Melissa's business "Spray Tans by Melissa" is presently offering mobile spray tanning services covering the Lakewood, Long Beach, Bellflower, Cerritos, Artesia, Los Alamitos, Seal Beach, Norwalk, Downey, Whittier, La Habra, Santa Fe Springs, Cypress, and all other surrounding areas. "I currently run a mobile business and will come to you to tan you and/or your friends and family, but I eventually want to open my own spray tan salon that offers spray tanning for individuals, groups, parties, and for those who wish to get hair tinsels", she says, about her future plans. She has also thanked Simone for all her support saying, "She taught me everything I need to know about spray tanning from actually spray tanning technique to opening my own business and I couldn't thank her enough for that". Melissa can be contacted on her website at http://www.spraytansbymelissa.com or at (562) 964-0790.
About Hollywood Airbrush Tanning Academy:
Hollywood Airbrush Tanning Academy is located in Los Angeles, California and offers an extensive Airbrush Tanning Certification program to anyone who wishes to learn the art and business of spray tanning. Simone Emmons, the creator of the spray tanning training program has been a professional, licensed spray tanning technician and teacher and has helped numerous entrepreneurs from Utah, Colorado, Nevada, Minnesota, Arizona, South Carolina, Oregon, Florida, California and the Island of Hawaii and Trinidad start a business in Airbrush Tanning. The spray tan program is unique because it provides hands-on and private spray tanning training to individuals who want to start an Airbrush Tanning Business. According to Emmons, this spray tanning program gives individuals a leading edge in starting an Airbrush Tanning business immediately after finishing with the training. Students have the option to choose from a full day course of 10-12 hours or two half day courses of 5-6 hours a day or through live video conferencing. The academy is also launching a website soon so students can learn Airbrush Tanning Online. Many tanning training institutions only educate students on their own equipment and products they sell, however Hollywood Airbrush Tanning Academy does not sell any of their own products and provides training and education on all equipment and good products in the airbrush tanning industry.
Individuals interested in learning and starting a career in airbrush tanning should visit the website at HollywoodAirbrushTanningAcademy.com or for more detailed information about the course at http://www.1DaySprayTanTraining.com