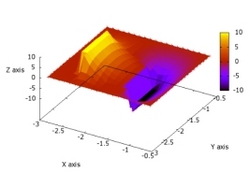 If you're solving this kind of problem, the best alternative to using this free worksheet is to buy a commercial software package for $20,000
London, UK (PRWEB) April 24, 2009
The winners of the $25,000 Resolver One Challenge, a spreadsheet competition organised by Resolver Systems, are showing that it is easy to build an easy-to-use numerical analysis system for very little money - or if you're a not-for-profit organisation, for nothing at all.
Last December, Resolver Systems, a London-based software company, announced that it would give a monthly $2,000 prize to the users of its spreadsheet application who submitted the best and most innovative spreadsheets; five months of this are to be capped in May with a $15,000 prize for the best of the best. The first two months' winners have been announced, and both follow the same theme: using the Resolver One platform as a familiar interface to access powerful numerical computing algorithms.
January's winner was Siamak Faridani of the University of California, Berkeley. His spreadsheet incorporates code in the Python programming language to solve Poisson partial differential equations, and is set up to help you easily perform electrostatic analysis of microchips. Faridani comments, "If you're solving this kind of problem, the best alternative to using this free worksheet is to buy a commercial software package for $20,000".
The winner for February was Marjan Ghahremani, a student at University of California, Davis, who integrated Resolver One with R, a powerful statistical analysis package. "R is the most successful statistical package there is, and it is free," she explains. "It has libraries for data mining, genetics, portfolio optimization, asset allocation, and many other areas. But it lacks a powerful but easy-to-use spreadsheet. A framework that integrates R with Resolver One lets users enjoy the power of all of the R libraries with the comfort and power of Resolver One."
Giles Thomas, CTO and Managing Director of Resolver Systems, explains: "These winning spreadsheets show that it is possible to do advanced numerical analysis with a user-friendly front end, without it costing the earth. Resolver One costs just $199 for a single seat, and a version is available without charge for people using it for non-commercial scientific research or as part of Open Source software projects. Once you're using it, you can easily combine it with commercial or Open Source systems, or with your own code in the powerful and expressive Python programming language, and you get all the number-crunching power you need."
Resolver Systems was founded in 2005 to produce a next generation Windows spreadsheet. The founders, Giles Thomas, Robert Smithson and Patrick Kemmis, had all struggled with the challenges of running multi-million or multi-billion dollar businesses through poorly debugged spreadsheets. Their solution - Resolver One - seamlessly integrates a powerful and flexible programming language and a traditional spreadsheet environment. Resolver One is used by companies in the financial, oil exploration and pharmaceutical industries, and in academia.
Entries for the current round of the Resolver One Challenge must be submitted by 23 April, 2009, and can win a doubled prize of $4,000. The webpage to submit entries is http://www.resolversystems.com/competition/
###