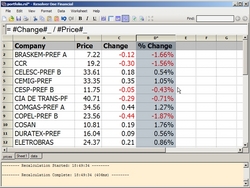 This version, with our new row- and column-level formulae, and its built-in webserver, really changes the game
London, UK (PRWEB) November 21, 2008
Today Resolver Systems announces the release of version 1.3 of Resolver One(tm) , a revolutionary improvement in spreadsheet software. "This version, with our new row- and column-level formulae, and its built-in webserver, really changes the game," said Giles Thomas, CTO and MD of Resolver Systems.
Resolver One is a new kind of spreadsheet that gives you more control over how your models are calculated, by converting everything you enter into a computer program in the Python programming language and then making it easy for you to change and enhance that program. Since its release in January 2008, it has gained users in markets ranging from finance to oil exploration to pharmaceuticals.
Version 1.3 introduces two major new features:

Column- and row-level formulae, using headers. A user can can specify that one column is "quantity", another column is "price", and then specify a column-level formula for a third column to make it "quantity times price". The formula is in just one place, so as new rows are added to the spreadsheet, it applies to them automatically -- and it uses meaningful terms like "price" and "quantity" instead of cryptic cell references like "A4" and "D22".
A built-in Web server. Users of Resolver One can specify that their spreadsheets should be shared over their intranet or the internet.
An 14-day trial version of Resolver One can be downloaded from the Resolver Systems website, as can a free version for use in Open Source projects or for personal non-commercial use.
About Resolver Systems:
Resolver Systems was founded in 2005 to produce a next generation spreadsheet. The founders, Giles Thomas, Robert Smithson and Patrick Kemmis, had all struggled with the challenges of running multi-million or multi-billion dollar businesses through poorly debugged spreadsheets. Their solution - Resolver One - seamlessly integrates a powerful and flexible programming language and a traditional spreadsheet environment. Resolver One is used by companies in the financial, oil exploration and pharmaceutical industries, and in academia.
###