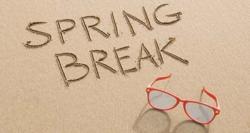 Chicago, IL (PRWEB) March 14, 2013
Spring break is just around the corner, and this means that many families and residents across the country will be traveling. In fact, spring break marks the unofficial start of the summer travel season. When traveling away from home, it's important to remember that home security should still be maintained. SecuritySystemReviews.com, a leading independent resource for all things related to the home security industry and security system companies, put together a brief list of home security system tips and basic precautions to help homeowners enjoy a worry-free spring vacation.
1. Use a home security system. A home security system is one of the most effective ways to prevent a burglary. In fact, statistics show that a home without security system equipment is more than 300% more likely to be broken into than a home with a security system. There is also a great deal of new security system technology, in the form of home automation systems, that allow homeowners to not only have an armed and monitored security system, but also monitor the happenings of their home while they're away, from a smartphone or mobile device.
2. Don't advertise spring break travel plans. Even with the presence of top security systems, a potential burglar can know when a family is away and target a home because of information found on social media sites. For anyone planning a spring break trip, never put information on social media sites that will indicate the residents of a home will be away. This can be an open invitation for burglars.
3. Residents who are planning a spring break vacation should alert neighbors they will be away. Neighbors can act as a great way to keep an eye on a home when its residents are away. If a neighbor knows the members of a household are away on vacation, they can report unusual activity in or around the home.
4. Don't let newspapers or mail accumulate when on vacation. This is another great way to utilize a neighbor during a spring vacation—have someone collect mail and newspapers. A sure sign to burglars that the members of a household are away is the accumulation of mail and newspapers, so arrange to have these items removed during vacations.
5. In addition to using a home automation system for security, they can also be a great way to make it appear as if someone is home, even during spring vacations. Rather than waste energy and money by having lights or other devices on during an entire vacation, consider the use of a home automation system to control the lights and electrical systems in a home remotely. Not only will it save energy, but it will deter a burglar from attempting a break-in.
About SecuritySystemReviews.com
SecuritySystemReviews.com is an independent, third party site that provides reviews, rankings and information related to the home security industry. The site is recognized as a leading resource for consumers interested in the purchase of a home alarm system.