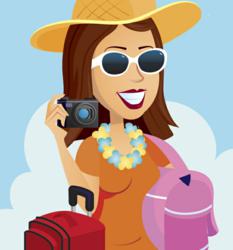 Natick, MA (PRWEB) February 14, 2013
Family Travel Magazine, recognizing that one of the most common questions being asked by families is "where to go on vacation with kids", has expanded their top 9 spring break picks. The online magazine has just curated a top 50 places for family spring break pin board on Pinterest.com, the fastest growing social media platform in the world today. The board includes hotels, destinations, and attractions across the United States and International locations.
Families can find great deals on spring break vacations through many popular travel websites, but these sites don't give ideas of where to go on vacation with kids. By looking through the board, families can get ideas and inspiration. In many cases, clicking through the pin will lead readers to specific reviews and information about the destination.
Specific destinations chosen include the following:
The new Legoland Hotel in California, which is opening in April and is located right at the entrance of Legoland Carlsbad.
The Ritz-Carlton Grand Cayman, which offers a fabulous kids program and a beautiful beach.
Disney's Aulani Resort in Hawaii, which opened several years ago and is already expanding to accommodate demand.
Families can get family travel inspiration and find out where to go on vacation with kids on the 50 Places for Spring Break Vacations Pinterest board.
About Family Travel Magazine: Passionate about promoting family vacations that help a family bond, Family Travel Magazine ( http://www.familytravelmagazine.com) helps families decide where to go on vacation with kids. They also review hotels, destinations and attractions and reveal special deals and promotions at hotels across the U.S, the Caribbean, and Europe. Because mom and dad sometimes need to get away alone, the magazine also features destinations for parents only. Jodi Grundig, mom of two with an MBA and ten years experience in corporate finance, is a sought-after brand ambassador, travel writer, mom blogger (since 2007) and brand consultant. An avid traveler and travel blogger, Jodi has written about some of the best family hotspots, including Hawaii, Arizona, Virginia, Florida, and the Cayman Islands. Jodi is a member of NATJA (North American Travel Journalists Association), and has served three years on the popular Walt Disney World Moms Panel.