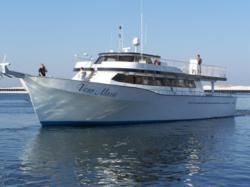 Colder temperatures have prevented tourists from enjoying their favorite activities such as parasailing and waverunner rentals
Panama City Beach, FL (PRWEB) March 26, 2013
A typical Spring Break on the Gulf Coast can be described as warm, sunny, and full of exciting things to do. It's normal to see hundreds (if not thousands) of people at the beach on any given day in March. However, the start of Spring 2013 has been described by locals as one of the worst on record. Colder temperatures have prevented tourists from enjoying their favorite activities such as parasailing and waverunner rentals.
"It's probably the worst March I remember in regards to weather," says Greg Fisher of travel website TripShock.com. TripShock.com is an online booking engine for tours and activities on the Gulf Coast.
"There just isn't many things to do for tourists that don't involve the water. Tourists can shop or ride on go-carts back home. We have been recommending tourists to check out local museums and shops, but they seemed to be stuck on doing the water activities."
Greg Fisher says that although customers are not able to book the watersports, they are seeing a large increase in bookings for boat tours since it doesn't involve getting wet. On Monday, several local boat tour operators such as Olin Marler Charters in Destin reported sold out tours. Other popular things to do include charter fishing and helicopter tours.
Those that are looking for a list of things to do on the Gulf Coast, check out TripShock.com.