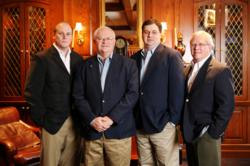 Plainfield, IL (PRWEB) January 31, 2012
When Spring-Green Lawn Care was founded in 1977, the lawn care industry was in its infancy. Today, Spring-Green is a leading company in a $45 billion industry. Over the last 35 years, Spring-Green has seen growth of all kinds, which is a testament to the franchise model and the high level of customer service provided by each locally owned and operated franchise. Spring-Green is committed to continuing this growth for the next 35 years and beyond, and their strategic partners (franchise owners) are a big reason for their success. Maybe that attitude is the secret formula to their success and why in a recent independent survey 90 percent of franchise owners said: "My franchisor and I are committed to a positive, long-term relationship." FranSurvey, December 2011.
The company has thrived throughout three recessions, proving it a recession-proof business. Revenue has grown every decade for the last 35 years, and Spring-Green's revenue was over $36 million in 2011. Spring-Green saw 30 percent growth in revenue from 1990 to 2000 and 90 percent from 2000 to 2010. Spring-Green has also experienced consistent customer growth, with a 19 percent increase from 1990 to 2000 and 43 percent increase from 2000 to 2010. Average revenue per customer has increased by 72 percent from 1990 until today.
As a founding member of the Professional Lawn Care Association of America (PLCAA), known today as the Professional Land Care Network (PLANET), Spring-Green has been a leader in the green industry since the association's origin in 1982, promoting education, certification programs and industry standards. Spring-Green has been listed on the Lawn & Landscape Top 100 for nearly two decades.
Spring-Green Lawn Care focuses on innovation and reinvesting in its franchisees. One way the company does this is by providing industry-leading business and marketing intelligence. They have a centralized database with relevant and timely data, which allows their lawn care franchise owners to monitor their business intelligence in areas like production and sales. Spring-Green also offers proprietary tools for marketing selection and analysis so franchise owners can view and analyze all of their current and prospective customer demographics, select their mailing lists and promotional offers and send this information directly to the printer for timed- or event-driven distribution. A national call center supports both inbound and outbound calling services during peak times of the year. This gives franchisees the opportunity to focus on their team and customer experiences.
"It's important for us to drive sales for our franchise owners so they can be focused on servicing the customer. Our national marketing programs influence over 70 percent of the total sales for our franchise owners," said James Young, president of Spring-Green.
Spring-Green's corporate employees have an average tenure of 13 years. Led by Chairman Tom Hofer, CEO Ted Hofer and President James Young, the team provides a strategic blend of experience including lawn and tree care knowledge. The staff also has specialists who can provide assistance to franchisees in specific areas ranging from marketing to equipment and more.
"We are thrilled to celebrate 35 years in business and are excited to continue our growth and innovation for the next 35. Recently a succession plan was implemented when Ted Hofer took over for his father, Tom, as CEO. Tom remains as chairman and Ted's youthful leadership will take the company into the future," said Young. "Each franchise has a local owner who is the face of the business in his or her community. We also operate 26 company-owned franchises that are very successful. Franchise owned, single-territory franchises average over $261,000 in revenue, while multi-territory franchises are averaging over $787,000 annually. At the Spring-Green franchise support center, we are maintaining focus on providing the best service to our customers, which generates customer retention and greater profitability for owners. We remain steadfast on our vision of helping our franchise owners to build large scale, highly profitable businesses."
Founded in 1977, Plainfield, Illinois-based Spring-Green Lawn Care has been delivering lawn and tree care services nationwide for 35 years. Its service is centered on the beautification of residential and commercial customers in middle-class and affluent neighborhoods and communities. Spring-Green is an attractive opportunity for candidates who do not want to be tied to a storefront operation, retail hours or set appointments. Franchisees enjoy a lifestyle of being in an outdoor-based business with recurring revenues that allow the business to continue to scale. Spring-Green currently has 119 franchises operating in 26 states and projections call for 10 new franchises in 2013. For more information, visit http://www.springgreenfranchise.com.
###