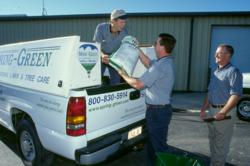 Plainfield, IL (PRWEB) February 24, 2012
Many Spring-Green Lawn Care franchise owners have already started working the lawns for the 2012 season, and those in colder climates are getting ready to start in the next couple of weeks. More than 50 percent of the franchise system visited the corporate support center for business and marketing planning during the off-season to prepare for this spring.
Business and marketing planning takes place over a day and a half at the corporate support center. It starts with a team breakfast with the franchise owners. The marketing discussion includes topics like acquisition, additional services, marketing tool review, campaign set up, direct mail, call center review, renewals, website review, web leads, search engine optimization, pay-per-click advertising, daily deal sites like Groupon and Living Social, home shows and other non-traditional marketing methods, loyalty and retention, customer surveys, net promoter scores and database maintenance and integrity.
After the marketing session franchise owners have a one-on-one lunch with an executive team member. The business planning meeting focuses on operations analysis, revenue, sales and cancels, expenses, materials and labor, production breakdown, weekly performance comparison, marketing playbook review, past years' performance, price charts, competitive shopping and online learning center course completion. The day ends with dinner with the owner's business consultant and other team members.
Day two concentrates on long-term plans and goals. Franchise owners review their 2012 business plan, three-year business plan and executive business plan. The day also includes long-term strategic planning, long-term goal setting, exit planning, acquisition, resale discussion if appropriate, equipment review and shop discussions if appropriate. It ends with lunch with the support center staff.
"Business and marketing planning is a wonderful opportunity for our strategic partners to connect with the entire support center staff," said James Young, president of Spring-Green. "It is impossible to replicate that level of communication in the field, especially because much of the field work done by our business consultants in season has to do with more short-term day-to-day issues. The day and a half at the support center is all about the future and setting a road map for this year and the next three years. The level of activity we saw in a few short months this year was significant and we are glad that so many of our franchise owners took advantage of the business planning. We look forward to seeing their increased success this season."
Founded in 1977, Plainfield, Illinois-based Spring-Green Lawn Care has been delivering lawn and tree care services nationwide for over 35 years. Its service is centered on the beautification of residential and commercial customers in middle-class and affluent neighborhoods and communities. Spring-Green is an attractive opportunity for candidates who do not want to be tied to a storefront operation, retail hours or set appointments. Franchisees enjoy a lifestyle of being in an outdoor-based business with recurring revenues that allow the business to continue to scale. Spring-Green currently has 119 franchises operating in 26 states and projections call for 10 new franchises in 2012. For more information, visit http://www.springgreenfranchise.com, http://www.spring-greenfranchiseblog.com or follow Spring-Green Franchise on Facebook, Twitter, LinkedIn or Google+.
###