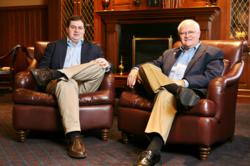 Plainfield, IL (PRWEB) June 17, 2012
Spring-Green Lawn Care has become a great franchise business opportunity for father-son teams. The company is led by one such team—Chairman Tom Hofer and his son Ted, who took over as CEO in June 2010. Many franchise owners have also joined their fathers or sons to create a successful family business.
"It's always great to see sons and their fathers working side-by-side to make a business successful," Ted said. "For me, I learned a lot from my dad both in business and in life. Working with him has been a great experience. I think the family atmosphere fostered by Spring-Green Lawn Care has played a key role in our success."
The Holker family is one example of a successful team. Matt Holker originally opened his Spring-Green Lawn Care franchise in Rogers, Minn., with middle son Greg. Oldest son Luke joined in January 2007 and youngest son Kevin joined in 2010 after spending four years in the Air Force. To make it work, each man has a specialty, ranging from working in the field to office activities and machinery maintenance.
Ken Brown and his son Ryan are the Rochester, Minn., franchise owners and have serviced southeast Minnesota since 2005. Ken handles the Rochester office while Ryan handles the Hastings location. By joining together, the Browns were able to successfully expand their territory to service more customers. This is a great way for franchise owners to grow their business without losing control of each location.
Some father-son teams got their start as a succession plan. Sons join the business to help out and get the training they will need to eventually run the business on their own. For example, Mike Songer, Jr. joined his dad's professional lawn care business in Washington, Pa., in 2009. Mike mostly handles field work and recently attended a manager training seminar at the corporate support center. His father does the office end of the business, which he has owned since 1986. Another example is Justin and Steve Peterson in Platteville, Wis. Justin joined his father's Spring-Green business in 2010 and now handles a great deal of the business including daily routing, vehicle maintenance, estimating, sales and daily production.
"Some of our best franchises are run by a father-son team," said James Young, president of Spring-Green Lawn Care. "It's a great opportunity for families to bond and it can also be a solution for a father wanting to make sure his business has someone to take over when he retires. We are always looking for fathers and sons who want to be franchise owners and we're looking forward to more sons joining their fathers in business."
Founded in 1977, Plainfield, Illinois-based Spring-Green Lawn Care has been delivering lawn and tree care services nationwide for over 35 years. Its service is centered on the beautification of residential and commercial customers in middle-class and affluent neighborhoods and communities. Spring-Green is an attractive opportunity for candidates who do not want to be tied to a storefront operation, retail hours or set appointments. Franchise owners enjoy a lifestyle of being in an outdoor-based business with recurring revenues that allow the business to continue to scale. Spring-Green currently has 119 franchises operating in 26 states and projections call for 10 new franchises in 2012. For more information, visit http://www.springgreenfranchise.com, spring-greenfranchiseblog.com or follow Spring-Green Franchise on Facebook, Twitter, LinkedIn or Google+.