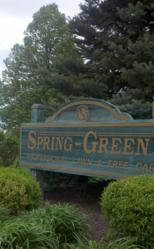 Plainfield, IL (PRWEB) April 27, 2012
Spring-Green Lawn & Tree Care is proud to celebrate National Arbor Day today as part of their strategic alliance with the Arbor Day Foundation, which was founded in 1972 and is a nonprofit conservation and education organization. With more than 1 million members, supporters and partners, it is currently the largest nonprofit membership organization dedicated to planting trees. Through the partnership, Spring-Green has planted 30,000 trees since 2010 in forests that have been damaged by wildfire, insects or disease that will positively impact the forest for generations.
Trees, which are crucial to the removal of carbon dioxide from the earth's atmosphere, play an important role in reducing the carbon footprint. Research has shown that large trees can absorb significant amounts of carbon dioxide and other pollutants from the atmosphere each year, improving air quality in cities.
Spring-Green's focus on beautifying the environment includes tree care services that account for about 15 percent of total revenue. Services include the two-step tree program that involves two environmentally-sound, soil injections applications in the spring and fall, root feeding which utilizes a method of pressurized soil injection to deliver important nutrients into the root zone, specialty injections for trees taller than 20 feet and insect and disease control treatments.
In the past decade, the emerald ash borer has been introduced into parts of the United States and has spread rapidly killing hundreds of millions of ash trees. The emerald ash borer is an Asian beetle that has made tree maintenance difficult. Larvae from the insect are born between the bark and sapwood of an ash tree, and as they feed, the tree is unable to properly transport water. Current ash tree care means removing infested trees and not transporting firewood that may contain the insect.
Because of emerald ash borer, other insects, diseases, deforestation and other factors, the Arbor Day Foundation mission to inspire people to plant, nurture and celebrate trees is more important than ever.
Founded in 1977, Plainfield, Illinois-based Spring-Green Lawn Care has been delivering lawn and tree care services nationwide for over 35 years. Its service is centered on the beautification of residential and commercial customers in middle-class and affluent neighborhoods and communities. Spring-Green is an attractive opportunity for candidates who do not want to be tied to a storefront operation, retail hours or set appointments. Franchise owners enjoy a lifestyle of being in an outdoor-based business with recurring revenues. Spring-Green currently has 119 franchises operating in 26 states and projections call for 10 new franchises in 2012. For more information, visit http://www.springgreenfranchise.com or follow Spring-Green Franchise on Facebook, Twitter, LinkedIn or Google+.