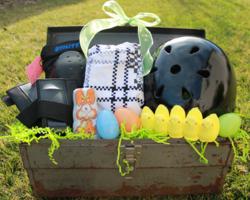 Thrift Town is such an exciting place to shop during the Spring, as there are so many colors , textures and unique, one-of-a-kind items in our stores. ~ Wendy Steinmentz, VP of Marketing
Roseville, CA (PRWEB) March 23, 2012
Thrift Town shares tips on how to hop to your own green beat this spring using thrifted items for decorating, and unique Easter basket creating.
This season, nests are all the rage when it comes to adding quick and easy pops of spring to your home décor. Nests can be created using sticks, grass, and moss found right in your own backyard. Add a few eggs and put them into beautiful glass containers or feature on top of candlesticks holders. Glass containers and candlestick holders can be found for a few bucks at Thrift Town, as well as plastic eggs. Another fun, easy, and yummy idea for added color is to color block with jelly beans. Using glass or white containers are a great way to let the vibrant colors of jelly beans brighten an Easter buffet, or table, and can also be found at Thrift Town for around $2 each. For more spring décor inspiration, check out Thrift Town's Pinterest Spring Board.
When it comes to creating the perfect Easter basket for kids of all ages, keep in mind the "basket" doesn't have to be well, a basket. It really only needs to serve the purpose of being able to hold items. When thinking in those terms, the sky is the limit on what could serve as a basket! For a unique boy inspired basket, vintage tool boxes work great (see photo). Creating a basket for an aspiring chef? If so, put fun finds like spoons, measuring cups, and cook books, in a large bowl, or for the sports fan, a protective helmet turned upside down could pull double duty as an Easter basket base. Don't worry if you're not feeling the unique basket ideas. Not only is Thrift Town full of non-traditional basket ideas, it's also full of traditional baskets of all shapes, colors, and sizes as well as basket grass and the signature to every Easter basket, a festive stuffed bunny, all for pennies on the dollar.
Finally, everyone knows that if attending an Easter Sunday service, brunch, or party, moms traditionally pull out all the cutesy stops when it comes to their kid's attire. It doesn't just stop with those over the top pink dresses, and adorable sweater vests! Oh no, there's the white gloves, fedora hats, mini tights, Miami Vice-esc white suits, shoes, bonnets, and matching purses! Expenses can add up quick to ensure one's pint sized mini me is dressed to impress. Thrift Town is an affordable place to find these items as kids grow out of last year's outfits like spring weeds, and most likely can purchase an outfit worthy of collective oohs and ahhs for under $10.
"Thrift Town is such an exciting place to shop during the Spring, as there are so many colors , textures and unique, one-of-a-kind items in our stores. Many people do Spring Cleaning this time of year, so all of our stores have an incredible selection of great finds and fun surprises!" Says Wendy Steinmentz, VP of Marketing, Thrift Town Stores.
Thrift Town has 15 stores locations in four different states, and recently debuted its online logo gear shop featuring Thrift Town branded apparel and accessories. Thrift Town lives its vision statement of being committed to making a difference every day, and is proud to have raised more than $250 million dollars for their charity partners. Their clean, bright, and organized stores put out 4,000 new products daily, setting them apart in the thrift world as the premier thrift destination. Thrift Town is owned and operated by Norquist Salvage Corporation, which has spent four decades dedicated to socially responsible recycling.