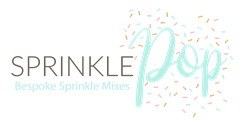 HOUSTON (PRWEB) August 28, 2018
Sprinkle Pop, a designer and manufacturer of original and customizable sprinkles for baking enthusiasts, baking supply stores and professional cake/cookie decorators, announced today the launch of three new sprinkle mixes for Halloween. Available on September 1 on the Sprinkle Pop site will be All Hallows, Dia De Lost Muertos and Monster Mashup. Each of the three new Halloween sprinkle designs are sure to dazzle on any baked good and are available only from Sprinkle Pop.
"Dia De Lost Muertos" is a show-stopping new sprinkle mix for any baker. It features white sugar skulls with flat dead black eyes ringed with green or pink flowers. The skulls are playfully tossed among a colorful array of hot pink, orange, black, lime green and purple jimmies, sugar crystals and nonpariels. The mix will add a dimension of horror and fun to any baked good. Dia De Lost Muertos is available in 2 oz ($8.75), 4 oz ($13.50) and 8 oz ($22.50) sizes.
"Monster Mashup" is a creative mix of tiny white ghosts, eyeballs, light grey mummies and round orange pumpkins. The monsters are in a sea of orange, black, white, light and dark purple nonpariels as well as white, black, lime green, orange and light purple jimmies and sugar crystals. Monster Mashup is available in 2 oz ($8.75), 4 oz ($13.50) and 8 oz ($22.50) sizes.
"All Hallows" showcases the traditional colors of Halloween with its rich combination of black, orange, white and silver. Tiny gelatin orange pumpkins and black bat jimmies add to the festive feel of this spooky sprinkle mix. All Hallows is available in 2 oz ($8.00), 4 oz ($12.00) and 8 oz ($20.00) sizes.
Sprinkle Pop's three new Halloween mixes are available for purchase online at https://sprinklepop.shop/. Wholesale is available for retail stores and bakeries by emailing info (at) sprinklepop.shop
About Sprinkle Pop
Houston, Texas-based Sprinkle Pop was founded by Liz Butts in spring 2017. Sprinkle Pop serves baking supply stores, professional cake/cookie decorators and baked-good enthusiasts around the world with high-quality, unique and customizable sprinkle products which can't be found anywhere else. New sprinkle mixes are always being designed and manufactured, while custom sprinkle mixes can be created for any occasion and are only limited by a person's imagination.
Media Contact for Samples and Images
RPR Public Relations, Inc.
Tel. 786-290-6413