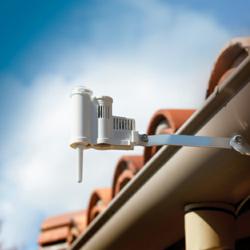 Providing free Smart Sprinkler Systems on new installations will allow our customers to just set it one time and forget it.
Houston, TX (PRWEB) March 12, 2013
Houston Pro Services announced today that their next 200 customers who install new lawn sprinkler systems in Houston, Katy, or Sugar Land will receive a free Smart Sprinkler System upgrade and a standard 3-year warranty.  The Smart Sprinkler System, which is normally a $300.00 upgrade, includes the Hunter Solar Sync ET sensor and controller.  
The Hunter Solar Sync ET sensor assesses sunlight and temperature and adjusts the sprinkler system daily to determine evapotranspiration (ET) and adjust the irrigation run time against the programmed run time according to its seasonal adjustment value.  The sensor also immediately halts irrigation in the event of rain or freezing conditions as required by Texas law.  
Due to water conservation concerns, all automatic sprinkler systems installed after January 1, 2009, are required to have a rain/freeze sensor per Texas State Law.  However, the law stopped short of requiring new sprinkler systems to automatically adjust and account for other changes in the environment that could reduce the amount of water wasted. 
Houston Pro Services is dedicated to providing responsible landscaping solutions that are smart and affordable. According to William Santamaria, owner of Houston Pro Services, "You hire a licensed irrigator to custom design your irrigation system for durability and efficiency, but you still have to make manual changes to the settings to adjust the amount of water being used.  It is not a very efficient or convenient way to manage it, which is why we are offering this upgrade."
The issue with traditional sprinkler system installations is that the homeowner must change the programing based on weather conditions or seasonal adjustments, which unfortunately, just does not happen. Even the most dedicated homeowner tends to forget to adjust the settings to compensate for the changes in season or weather. "Providing free Smart Sprinkler Systems on new installations will allow our customers to just set it one time and forget it," said Mr. Santamaria.
A smart sprinkler system prevents wasting water because it will only run just enough water based on sunlight, temperature, and ET throughout the entire year, unlike homeowners who make their own judgments solely according to current temperature.  Commercial irrigation systems use smart sprinkler systems because water conservations and savings are extremely important for larger jobs. The water savings for large systems, which can be up to 30%, are considerable due to the number of gallons used each week.  Hence, Houston Pro Services residential customers who receive a free Smart Sprinkler System upgrade will benefit by not only the convenience of the system, but will enjoy the substantial savings in the cost of running the system.
Houston Pro Services is a family owned company that specializes in landscaping, and lawn sprinkler systems based in Houston, Texas. For further information, you may contact William Santamaria at 1-713-396-3320 or visit the website at http://www.houstonproservices.com.