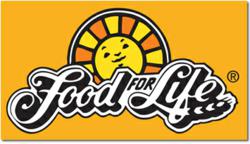 Glendale, CA (PRWEB) August 08, 2012
Praised for using natural ingredients by nutrition-conscious food-lovers, Food for Life has joined a family of progressive companies helping to create sustainable funding for America's nonprofit organizations by posting coupons on http://www.CommonKindness.com.
CommonKindness is the free printable grocery coupon website that donates 20% of the coupon distribution fees it receives from brands to the nonprofit organizations coupon redeemers choose when they register online.
"Food for Life is proud to partner with CommonKindness in its goal to create sustainable funding for America's vital nonprofits," said Gary Torres, president of Food for Life. "It fits in with our company culture of building a healthier world."
The Sprouted Grain Difference
Food for Life Baking Company is a family-owned and operated specialty bakery with a passionate commitment to making natural foods through an exclusive sprouting process that significantly increases the amount of valuable nutrients in its sprouted whole grain breads and other products.
The company found inspiration in one of the most inspirational books of all: the Bible.
Ezekiel 4:9
Torres says the company's flour-free, organic Ezekiel 4:9 organic sprouted whole grain products were inspired by the Biblical verse Ezekiel 4:9, "Take also unto thee wheat and barley and beans and lentils and millet and spelt, and put them in one vessel, and make bread of it."
Rich in protein, vitamins, minerals, and natural fiber with no added fat, Ezekiel 4:9 organic sprouted whole grain products contain 18 amino acids, including all nine essential amino acids.
They are naturally flavorful, and bursting with nutrients, including a complete all-vegetable protein that it is 84.3% as efficient as the highest source of protein.
Genesis 1:29
The recipe for Food for Life Genesis 1:29 sprouted grain and seed bread and English muffins is based on the Holy Scripture verse, "And God said, 'Behold, I have given you every plant yielding seed that is on the face of all the earth, and every tree with seed in its fruit. You shall have them for food.'"
Few consumers have access to many of the super nutritious, exotic grains and seeds from around the world, so Food for Life brings them together in Genesis 1:29. Food for Life uses only the highest quality organically grown grains and seeds, and sprouts them to maximize nutrition through enzymatic action and germination.
The unique combination of ingredients not found in ordinary breads nourishes the body and soul, said Torres. They include:

Teff from the highlands of Ethiopia
Black quinoa from the mountainous regions of Peru
Barley from the ancient Holy Land
Brown rice and spelt from the Far East
Amaranth and chia from Central and South America
Soy from China
Flax and rye from Northern Europe
Corn from Old Mexico
Kamut from Ancient Egypt
Millet and sorghum from the plains of Africa
Sesame seeds from the Near East
Pumpkin seeds from the Mediterranean
Spring wheat and unprocessed bran from Montana
Sunflower seeds from the Dakotas
Certified Organic
The term "certified organically grown" indicates the grains are grown and processed without the use of spray fertilizers, chemicals, or pesticides and the land where the grains sprout has not been sprayed for at least three years.
Certified organically grown grains are verified by certifying agencies as having been processed according to the standards and statutes of the Organic Foods Act of 1990.
All-Natural Baked Goods
Food for Life products are made with filtered water and are kosher-certified. Every Food for Life product is developed after countless hours of research. Food for Life has developed exclusive baking processes to ensure proper moisture levels, texture, and maximum flavor without losing vital nutrients and important natural fiber. No additives, artificial flavors, colors, or preservatives are ever used.
To start saving on Food for Life products, shoppers simply go to http://www.CommonKindness.com, quickly register, and designate their favorite nonprofit from the user-friendly directory. They then clip their Food for Life coupons and head to the store.
For each coupon redeemed, CommonKindness donates 20% of the distribution fee it receives to the shopper's designated nonprofit group.
About Food for Life Baking Company
Food for Life Baking Company of Glendale, California started in 1964 in the back of a small neighborhood store known as Foods for Life Natural Foods. Today, after more than three generations and 60 different bread products, Food for Life remains a family-owned enterprise that uses its original baking techniques to make truly authentic and flavorful sprouted grain breads. All Food for Life bakery products are made from the finest natural ingredients to provide optimum nutrition and maximum taste.
To learn more about Food for Life, go to http://www.foodforlife.com or call (951) 279-5090.
About CommonKindness
CommonKindness is the new online grocery coupon site that operates on the principle of kindness and aims to benefit consumers, nonprofit organizations, and brands. CommonKindness is revolutionizing the online coupon industry by eliminating coupon loading and change costs, charging brands only for coupons redeemed, and giving 20% of its revenue to nonprofit organizations.
To learn more about CommonKindness, go to commonkindness.com or call (510) 363-2275.