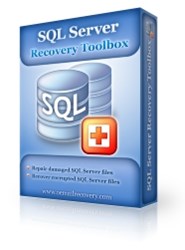 the software combines an easy-to-use and elegant interface with outstanding performance and efficiency of SQL recovery.
Sacramento, CA (PRWEB) March 18, 2013
Recovery, the company that offers a wide range of recovery and file repair solutions for over two dozen popular applications, is glad to present the newest and the most functional version of SQL Server Recovery Toolbox, a powerful, yet easy to use SQL recovery tool. The product is based on a proprietary database analysis algorithm capable of performing a thorough inspection of the contents and structure of corrupted MS SQL Server files in the MDF format and extracting data from them. SQL Server Recovery Toolbox recovers user and system tables, stored procedures, user-defined data types, functions and views, which makes it a comprehensive SQL recovery solution capable of saving users' data even in the most serious cases of data corruption. How to use instruction is available at manufacturer's site.
The process is almost completely automated and requires a bare minimum of user's involvement thanks to a multi-step recovery wizard that the program is based on. The program supports files of up to 16 TB in size, recovery of database data over the local network and output to another database or a collection of SQL scripts stored on the user's hard drive.
"Since MS SQL databases underlie a colossal number of business applications, it is hard to underestimate the importance of having reliable database recovery tools in corporate environments. We have invested a lot of effort into this product that demonstrates outstanding recovery efficiency with databases of any size and structure," said Victor Bobrov, Head of Delivery at Recovery Toolbox.
Read how to repair MDF files at official site of SQL Server Recovery Toolbox http://www.oemailrecovery.com/sql_repair.html